Now I know that title caught your eye - especially if you are personally acquainted with the Farmer! So let me hasten to say this has nothing to do with the environment. Nope. Not at all. It has to do with color preferences. With farm tractors, there are many color choices: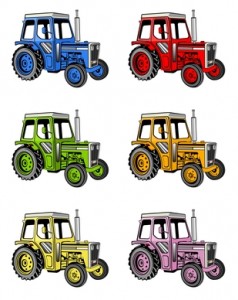 For years, the Farmer's color preference for tractors has been BLUE. Now I won't mention the name of that brand, but suffice it to say, it was always been his first and favorite choice. A couple of years ago, he made the decision to purchase a brand, spanking new, BLUE tractor. The salesman was disengaged during the process and the Farmer felt he had to push the entire transaction. Despite un-returned phone calls and lack of information from a disinterested salesman, he still purchased the BLUE tractor.
He believed in the product even when he had lost confidence in the salesman. However, almost immediately after the purchase, trouble began. In and out of the repair shop for the first year. and second years........ Hmmmmmmmmmmm....... the Farmer was now losing confidence in the product! Blue was fast becoming his least favorite color.
But it wasn't just about the tractor. And it wasn't just about the quality of service he was receiving. It was also the attitude displayed by some of the employees of the company. This was a local company with which he has done business for over 30 years. Other than the owner, whom he rarely saw, no one seemed to care that his operation would be shut down for weeks waiting for repairs. The Farmer, one of the most patient and low maintenance men I know, said: "I really don't think they want my business....".
A few months ago, while contemplating another major tractor purchase, his first inclination was to go BLUE. He inquired several times about his options for BLUE, but the same salesman was too busy or too disinterested to help. After two weeks, he finally began to consider a new color choice. Changing brands. It's something neither the Farmer nor I like to do. We are loyal customers to the brands we have chosen over the years.
The Farmer began researching other options. What a difference this time! The new salesman was informative, engaged, and even enthusiastic about his product and with the opportunity work with a new customer. The product actually seemed better suited to the Farmer's needs than he could have ever hoped for. Within days, the Farmer had made his choice and none of us could believe it - the Farmer was going GREEN!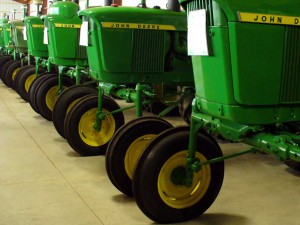 A few thoughts from a business owner's perspective......we want our clients to be loyal to us, our company, our team, our product. But the question is this: Are we loyal to our clients? And if we are, what does that look like? Do our clients know that we truly want their business? Are we engaged with them when they are in need of our services? During and after the sale, how do we handle challenges that can occur?
We need to remember, it is not the problems that will cost us their business and their loyalty, but rather how we handle those problems that will make a difference.
Have you ever switched brands or companies because of a bad experience or sub-standard product? If so, could the offending company/brand done or said anything to save your business relationship with them?