Tampa Bay Bucs fullback extrodinaire, Mike Alstott has announced his intention to retire from the NFL, a move not unexpected after a neck injury kept him out of the 2007 season. This injury was an unrelated to a neck injury suffered in 2003.
The Buccanneers all-time touchdowns leader and arguably most-popular player played his college ball at Purdue from 1992-95. Prior to that he was a standout at famed Joliet Catholic Academy (think Rudy). A few years behind Alstott in school one town over, we often heard of his legendary training regimin. Whether folklore or truth, it was reported that he would tie a rope to his waist and the other end to a car and run....
I can't say if that's true or not, but I know there's a couple hundred former and current defensive linemen and linebackers at various levels that buy the story.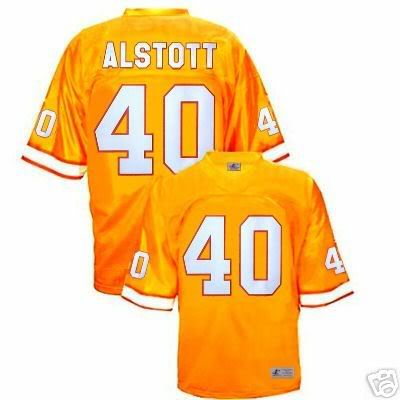 In any event, my hat's off to a local-guy made big....and a congratualtions on a hall of fame career, cut just a little short- but not shy on big hits and memories!
....I'm also in the process of putting together a flag football team to play at Joliet Memorial Stadium through the park district, so if Mr. Alstott's bored and wants to join- I can make a spot for him. :)