How would you describe a great real estate agent? Consider this. A person will spend $300 at a doctor's office, and expect that doctor to have University degrees and advanced medical degrees and a long internship, plus we also want a senior doctor with many years of experience. When we see a dentist, we also expect him to have 18+ years of education and a lot of experience, and we expect all that even if we are only spending a couple of hundred dollars. So when a consumer invests his life savings or several hundred thousand dollars in a home, shouldn't he demand that his real estate agent have a relevant education and the experience that will protect him and help him meet his goals? Finding and hiring a good real estate agent ought to be high on the due diligence checklist.

What Defines a Good Real Estate Agent?
I've compiled a list of skills a good real estate agent would have on one side compared to many others in the business. Which Realtor would you choose? Would you choose the agent with all of these marked "yes" or the agent with only some of these qualifications? Of course, a good real estate agent doesn't necessarily have to have all of these qualifications, but the more the better.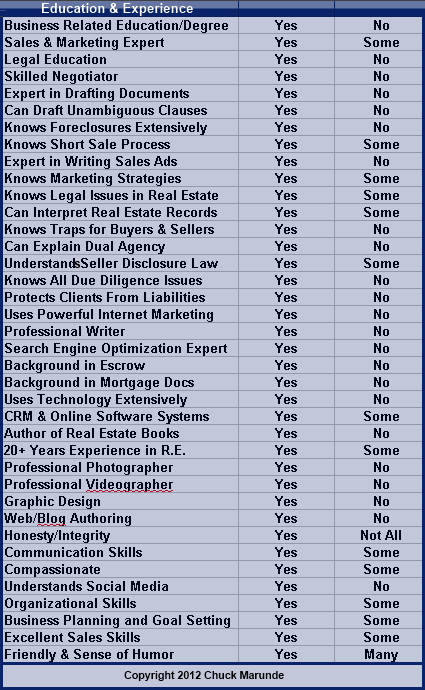 Just Pick a Good Real Estate Agent
I compiled this list of what defines a good real estate agent because I hope to get consumers thinking about what they want and require in a real estate agent. You might compile a slightly different list for what you feel is important.

I do believe that just picking up the phone and hiring anyone with a license is not in a consumer's best interests. Just hiring an agent because he or she is the spouse of a friend or has been referred by someone says absolutely nothing about their qualifications. Just because he or she is in your club or church also may be nice, but says absolutely nothing about qualifications. Remember, even honesty does not make up for a lack of qualifications.