I really love my job as a real estate agent. I love helping people find the home they want to invest in and live in and raise their family in. But so many times when people ask me about homes in Tucson, AZ for the first time, they just give me a list.
Fenced Yard
Three bedroom/Two bath
Good schools
Low crime
Sound familiar? Yes, but it is also really vague and subjective. My ideas of good schools may not be your idea of good schools. I want a high school with a great marching band program (Former Band Geek shining through, forgive me). You want one that has an engineering fast-track. Low crime? What sort of crime? What is "low"? A percentage per capita? A rural area may have only three thefts a year, but if there are only 9 homes in the neighborhood, that's a high percentage of crimes in that area.
Even if we pinpoint your ideal school and crime risk area, how many three bedroom/two bath homes are available? And in your price range? Wait, you didn't even think about pre-qualifying yet, did you?
In comes me, your friendly real estate agent, and you rattle off your list, I run back, print off what I thought you were asking for, then you see them and go, Wait, no, no, no. This is all wrong. I hate Santa Fe style, this one is an attached town home, and I must have a place for an office! You are upset, I am hurt that I couldn't find you anything you wanted, and no one is happy.
Looking for a home is not like driving up to the fast-food window, and placing your order. These multifaceted transactions re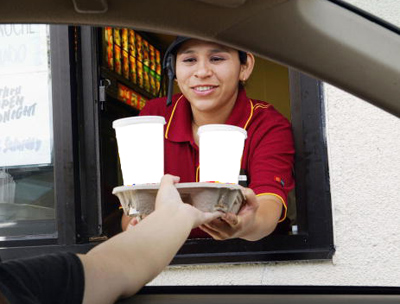 quire patience and a great deal of understanding about the needs of the family living there. The personal questions I ask help me delve into what the spaces will be used for, not because I want to gossip. Financial issue questions help me determine a realistic budget before you fall in love with a house that you can't qualify for.
For buyers or sellers, a client consultation does not cost you any money. I use that time to understand who you are, what your needs and wants are, help you understand the terminology and time lines, and establish the goals you are wanting to accomplish.
So when I ask that you take the time to visit with me before I try to just "fufill your order," know that I want to help and can best do that when your expectations are being met.
If you are buying or selling in Vail, AZ, Sahuarita, AZ or the greater metropolitan Tucson, AZ area call me for a free consultation to see how I can help you with your real estate needs.
(Image found on Google Images, original found http://www.kimgreenblatt.com/)