WELCOME MASON OHIO BUYERS AND SELLERS! I hope you are enjoying this Sunday before Christmas Eve! Here's a tip for my buyers out there who are searching for homes in Mason, Ohio.....you may be meeting up with multiple buyers on the properties you are interested in. I've been talking with a lot of other agents out there that work full time like myself, and they all seem to be having quite a surge in buyer business. Be prepared to make your best bid if it really is the home of your dreams, or you might be surprised that another buyer takes it from you!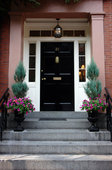 It's a great time to buy in the Mason market...with low interest rates, great price tags on homes and the rush of seller's hoping to sell before the long winter sets in. You just can't help but want to at least take a look at the inventory of homes on parade in the Mason Area these days!
Today, December 23rd, we currently have 166 homes for sale in Mason with a median list price of $199,700. The median days on market expectation for these homes before they sell is now at 119 days, so sellers take note. We also should point out that there are currently 67 Mason sales pending right now with an average median sale price of $155,000 and a median days on market of 91.
Mason, OH is approximately 22 miles north of Cincinnati, OH and is considered the largest city in Warren County. Mason Schools are well known for their top rating in the state, and the city offers great attractions such as the famous Kings Island Amusement Park and the Great Wolf Lodge with indoor water park. The city also hosts home to Cintas and Luxottica Retail headquarters, along with the Procter & Gamble's Mason Business Center.
Why not check out the current Mason Single Family Homes and see why this location would be a a great place to call home.
____________________________________________________________________________
NORTHERN KENTUCKY Real Estate Sales - Cathy Miles Realtor®
CINCINNATI, OHIO Real Estate Sales - Cathy Miles Realtor®
I specialize in helping buyers & sellers with their real estate needs in Northern KY and in Cincinnati, OH .
With passion, I invite you to board my boat for your next destination and allow me the opportunity to help you navigate the ever changing currents of this incredible market!
just ask cathy...513.673.7726
Helping to educate buyers & sellers to make sound real estate decisions. __________________________________________________________________________________________________________________________________________
KY & OH Realtor® /EXIT Realty / www.mileshometeam.com /513.673.7726 / cathy@mileshometeam.com