Port Moody Center - Suter Brook Village Living, Working, Playing!
Suter Brook Village is an Oasis by itself. Living in Suter Brook in the beautiful condos & townhomes, working in the retail establishments, cafe's and other professional organizations, playing as in shopping, enjoying a luxurious latte, working out for fitness - you get it all here. And it is only a small area, encompassing just a block within Ioco Road on the West, Murray Street on the North & Capilano Road on the West & South.
The map below Shows the Present Suter Brook Village bounded by the blue line. The yellow marked area is future development some of which has already begun.

View Suter Brook Village in a larger map
To find currently listed properties in the Suter Brook Village, on Capilano Road, Morrissey Road, Brew Street & Suter Brook Way or any of the neighboring areas visit Suter Brook Village Living, Port Moody.
This area is close to the picturesque Burrard Inlet and also to the Port Moody Recreation Center as well as the historic district of Port Moody, with the Inlet Theater, Port Moody Arts Center & the Port Moody Station Theatre. One can take a stroll in these lanes, sip on an iced latte on a bench under the sun, or invite a friend over for a smoothie, or even get a well deserving workout at the Innovative Fitness on Capilano Road.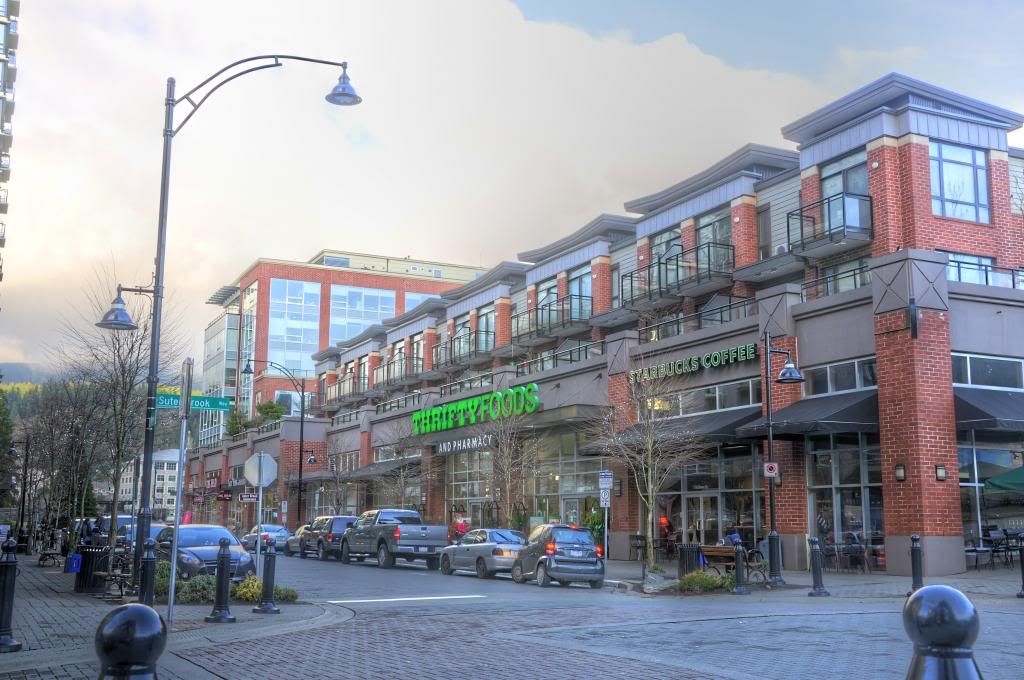 Here are some pictures of the Streets of Suter Brook Village. Above is Thrifty Foods, your gourmet grocery store with a Pharmacy that specialize in high quality food products with a variety of organic foods & caters to a particular Clientele. This is at the crossroads of Suter Brook Way & Brew Street.
Above the store are the "City Homes" Executive style 2 bed/den urban designed townhome by Onni! This is a unique 2 level sky townhome & boasts over 1300 sq ft of spacious living space with 2 bedrooms, 2.5 bathrooms & a den that could be turned into a 3rd bedroom. The master bedroom soars with vaulted ceilings. Chef style kitchen features a gas stove, large stainless steel appliances, granite countertops & island. The large den opens up into a huge private patio perfect for those summer bbq's. Each unit comes with 2 parking stalls. Amazing amenities include swimming pool, fitness gym & party room.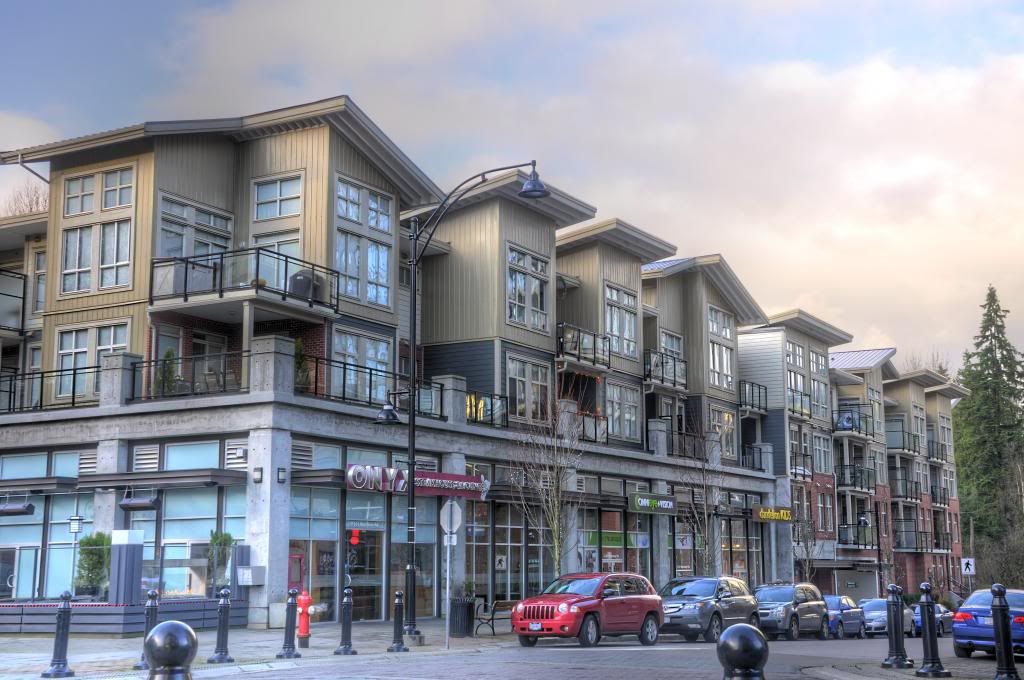 The picture above is of Morrisey Road with the Onyx Steakhouse & Lounge, Omnieye Vision & Dandelion Kids, a hip kids clothing store.
Above the businesses on Morrissey is the Apartment/ Condo Complex called "Libra" built by Onni Group of Developers. They have Open gourmet kitchen with granite counter, stainless steel appliances, breakfast bar, Fireplace & balcony. With a Modern West Coast Design & Open Plan these luxury condo units feature spacious living & dining room with sliding door to a private balcony. With High ceilings more than 9', large windows & beautiful berber carpets in all bedrooms these are the most desirable low-rise condos in the area.
There are quite a number of other unique vendors in Suter Brook as in Refresh Salon & Spa, Booster Juice, Cob's Bread, Ruben Chocolates etc. This area is a stroller's paradise & the perfect place for sunbathing in the summer months, cozy enough for having a romantic dinner by the fireplace in the gourmet restaurants. Shopping, rec centre, restaurants, coffee shops, Rocky Point trails, transportation(incl future Evergreen line) are right at your door here. This is your one stop shop-live-play spot.
For all New - on - Market Homes in Port Moody go to New Listings for Homes in Port Moody
If you want to see what single family homes are like in Port Moody Visit Port Moody Single Family Homes for Sale
For all Port Moody Townhomes & Condos that are currently on market you can visit Port Moody Condos & Townhomes unscfor Sale.
All Amenities in Suter Brook Village: