Emerald - 2013 Pantone Color of the Year
Pantone LLC is the world-renowned authority on color and provider of color systems and leading technology for the selection and accurate communication of color across a variety of industries. The PANTONE® name is known worldwide as the standard language for color communication from designer to manufacturer to retailer to customer. Every year Pantone LLC declares a new, fresh and exciting color as COLOR OF THE YEAR. For 2013 that color is EMERALD. I am so excited about this years color. Last year the winner was TANGERINE TANGO. If you missed that blog post and would like to check it out you can view it here PANTONE® Color of the Year 2012 Tangerine Tango. I have to admit I was not a big fan of last year's color. I just didn't really see how I could work TANGERINE into my every day life. So without further a do.... here are my favorite ways to use the 2013 PANTONE COLOR OF THE YEAR - EMERALD.
Using the color in your accent decor is a subtle and elegant way to brighten a room. When staging a home to sell this is an excellent way to add color and interest without losing the buyer due to clutter.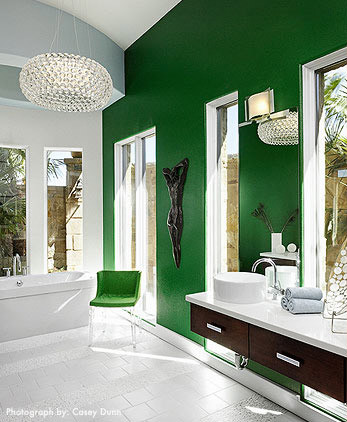 If you are a little more daring why not paint an accent wall for a dramatic experience. Above you see they again used this color in the bathroom; however it would be amazing in a living room or a bedroom as you can see below.
What about using it as a faux runner going up the stairs? Makes me think of Dorothy following the yellow brick road to Emerald City. Follow the Emerald Stairs. No matter what form Emerald takes in your home it is sure to be a winner. I look forward to a great year with this color!