When You Fly Spirit Airlines - Be Prepared to Get Nickel and Dimed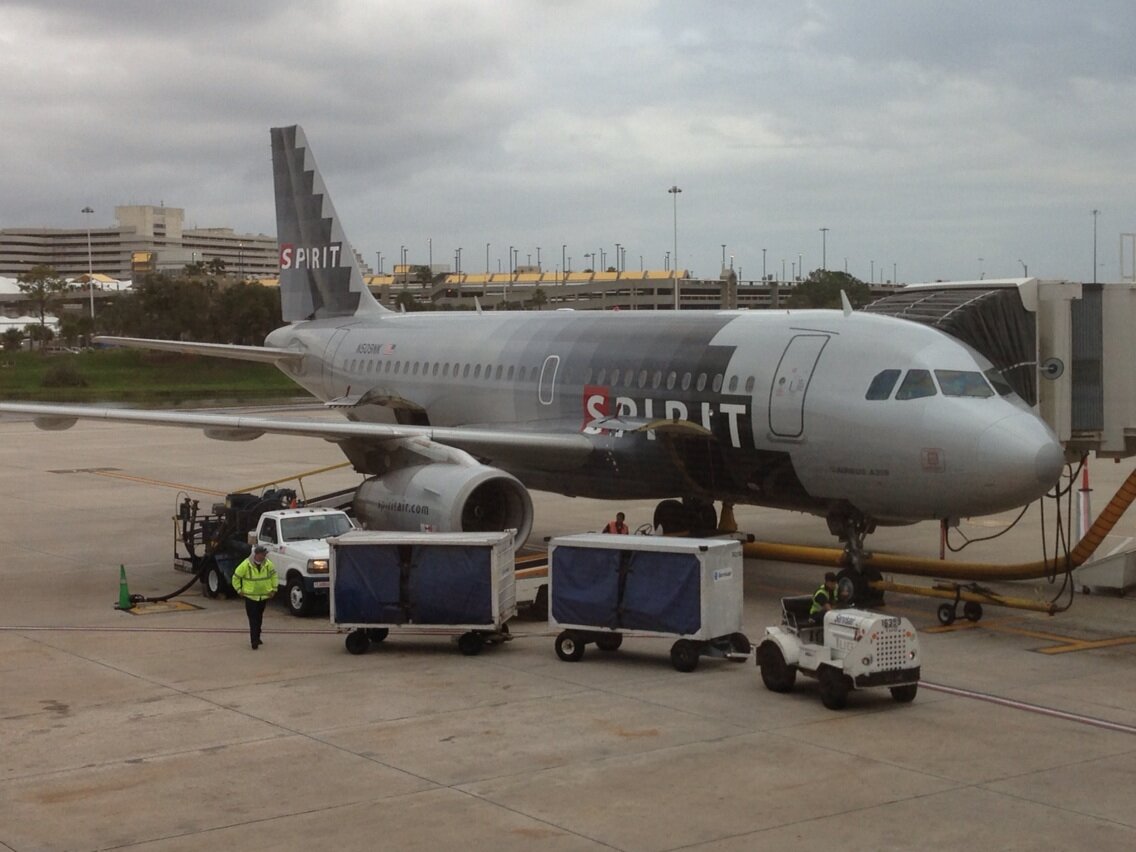 I had the unfortunate experience of flying Spirit Airlines recently. I purchased a round trip ticket for a Spirit flight on Travelocity, because it appeared to be $30 less expensive than the same round trip ticket with American (which I would have had frequent flyer miles on - no sense if having a FF on Spirit though I did to see how much of a pain it would be - ) I thought I'd give Spirit a shot.

In my round trip segments - there were many people that were very grumpy about the same thing that I will be writing about here - lack of proper disclosure.


It happens in Real Estate too...

The same thing can be said in many areas of the Real Estate industry - with some agents not issuing the proper disclosures on time (or not at all) to home buyer clients for example.

My real estate company, Buyer Broker Chicagoland, is all about full transparency and disclosure -- and true fiduciary responsibility to the buyer in the Chicagoland area.

I'm appalled when I come across companies or people in any industry that pad their profits by pulling the wool over people's eyes through directly or indirectly exploiting people's lack of knowledge, or being manipulative (making it difficult to do x in order to pad one's profits), or not giving them easy access to the knowledge that they need to make an INFORMED decision - up-front.

In the real estate industry - it might be making poor or no disclosures or perhaps pushing a higher commission payout property on a buyer client (all else equal between two alternatives) because the agent makes more - and the buyer is none the wiser.

My company ensures that there are no home showing biases based on payout and we align our financial interests with our client's interests - instead of the opposite. We are always 100% on the home buyer's side without the dual agency conflicts of interest that can plague a so called "buyer agent." We are transparent in every aspect of our business, from what we make, to what the advertised payout is on the MLS sheets, to our fiduciary responsibilities, to the drawbacks of a given home, and other aspects of the transaction - so that our clients can make FULLY INFORMED decisions and are not "sold" something.

So back to Spirit airlines...

What the travel sites such as Travelocity and others fail to mention is that Spirit Airlines whacks people with tons and tons of fees in addition to the purchase price of your ticket. What looked to be less expensive than the American flight by $30 with the Travelocity purchase, turned out to be $70 more expensive after all their fees/ (Spirit doesn't even give people free soda or OJ or even water. They charge for everything. I asked for water and the response was "not unless you are severely dehydrated - sorry.")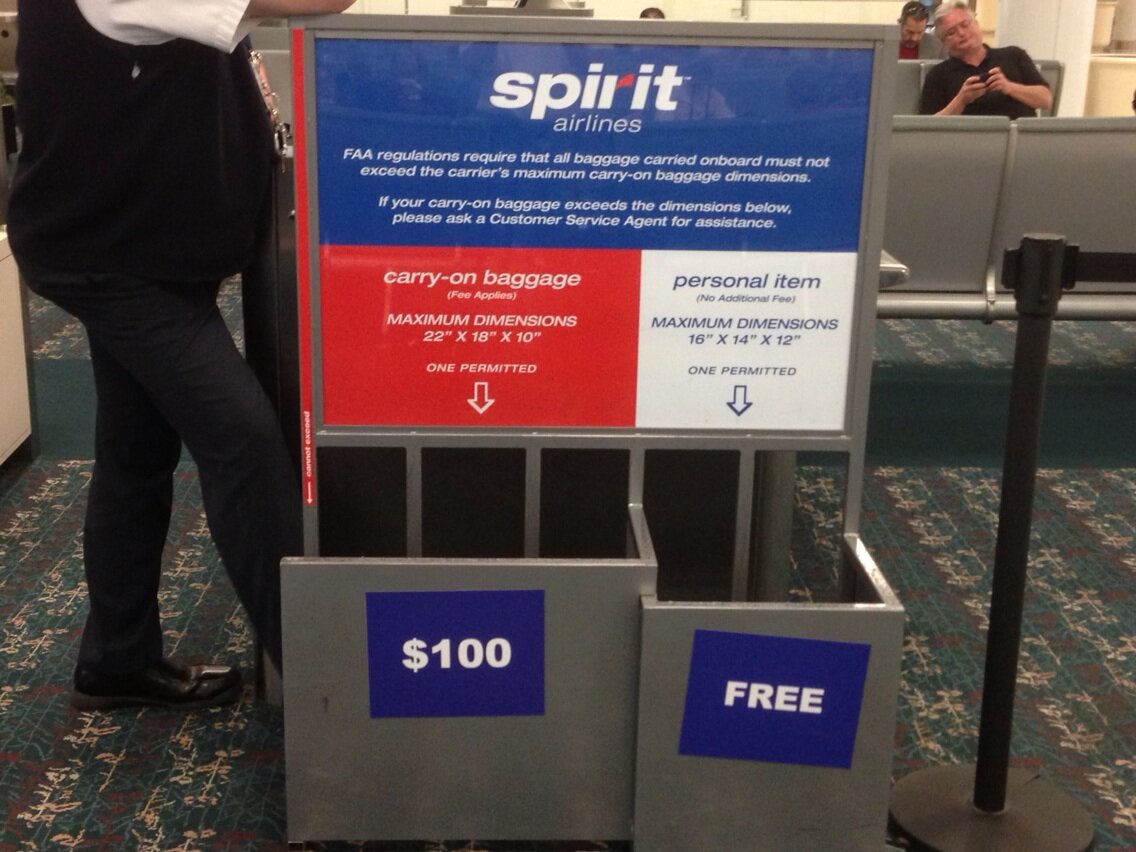 What shocked me (and other irate passengers) was the Spirit charge of $45 at the ticket counter for each carry on you have -- and $5 if they print your boarding pass out. If someone has their boarding pass and just goes straight to the gate with their carry on without paying for it in advance - they get whacked 100 bucks. An article - Spirit charges you a whopping $100 for your carry on bag.

So - after the first leg of your flight where you are deceived by the non-disclosure (Spirit claims that people could go to their web site and read all their fine print after they book a flight on one of the other sites - but really.... who really does that?) -- you pre-pay for your carry on prior to arrival at the airport (using your vacation time) - and Spirit charges you $35. So assuming you are able to print out your own boarding passes each way and pre-pay for your carry on's - you are still whacked for $70 extra.


You can avoid the $5 fee if you print out your boarding pass before you arrive (almost zero people know this unless they have flown Spirit Airllines before.) . For many people traveling, they may not have access to a printer for their return trip - so they are captive to an extra 5 buck charge from Spirit. ($10 round trip) Unlike most airlines (where they e-mail you a boarding pass that can be scanned off your smart phone at the airport), Spirit requires that people print it out. Since most people find that difficult when traveling - Spirit pockets extra profits for themselves by taking advantage of that fact of making it difficult for people - and also pockets the extra profits from charging for people's carry on's.

If they made a smart phone boarding pass instead of requiring people to print out the pass - they wouldn't be pocketing the extra 5 bucks over and over.

Interestingly - when I tried to get the concierge desk at the hotel to print it out for me, they said "We do it for people for every airline, but we cannot do it for Spirit." I said "Why not?" "They make it too difficult." "We would need your e-mail address, password to the Spirit site, and confirmation number." So I told them - I'd enter all the data on the keyboard - just give me the keyboard. (To even get an e-mail address and password registered to use on the Spirit site (required for boarding pass printing) - you have to go through all sorts of things beforehand.) So they told me when I needed to enter what, and I was likely the first person ever that got a Spirit boarding pass printed out at the establishment.

Spirit touts themselves at the low cost airline - but nothing could be further from the truth.


Spirit tries to sell people on a credit card before they let them leave the plane. (At least they did on my first leg.) The flight attendant stated that everyone who applies gets a coupon which is good for a free one way trip, and a cup of coffee. Well, that wasn't the truth. Reading the fine print from my seat neighbor's application - the one way segment is only for people who get approved for their card. If you don't get approved - you would need four of those coupons - which of course, won't happen so their coupon is worthless. My seat mate asked them "where's the coffee?" and the flight attendant's response was "What coffee?" Nice....

Reading online - it seems that Spirit also make an unexpected charge to people cards before they even receive them - so perhaps that is a charge for a "coffee" that people may (or may not) get a voucher for some future date. (I'm not sure how much they charge for the "coffee")

There are many stories here on RipOffReport.com or "Pissed Consumer"

There are certainly a bunch of negative blog posts about Spirit - such as here
or here

The Spirit airlines advertisements also seem to be unprofessional Romney Binders Full of Women or Spirit Airlines agrees with Brent Musburger; offers deal to 'stop ogling over girls'

Of course - they didn't want to give a dying veteran his money back either.

People have had a number of travel nightmares with Spirit, which I won't go into for the sake of brevity (you can always Google.) Doing a little more research, it appears from an article on the web - that last year, Spirit Airlines was fined by the Department of Transportation for deceptive pricing in advertisements and tweets. Earlier, the airline was also charged for failing to respond and keep track of complaints submitted by disabled passengers.


Spirit attempted to fight Dept. of Transportation rules including the one requiring advertised airfare prices include government taxes and fees. Never mind that most passengers love the "what you see is what you pay" rule, Spirit claimed it somehow violated their right to free speech. The Court of Appeals disagreed.

In fact - the most infuriating thing for people flying Spirit for the first time is that none of their extra charges are disclosed or obvious on the sites where the travel is booked. So what looks like a cheap ticket can actually cost you hundreds more than if you had taken your American or United flight.

It is no surprise that the airline is quite profitable given such deceptive practices. I just wonder why anyone would ever go back to them unless they travel with no luggage or carry on's -- and how many people really do that?


What is absurd is that the CEO of Spirit airlines told Congress that bringing luggage on vacation was "not essential" to travel and his airline was actually helping the poor fly by charging up to $45 to place their carry on in the overhead bin (or $100 per carry on if done at the gate.) I'm just wondering what he is smoking.

My bet is that half of Spirit's passengers are those who have never flown with them before, and who will never fly with them again, after they get unexpectedly gouged with the non-disclosed fees.

The analogy is a traditional agent not telling people about the pitfalls of dual agency prior to their relationship with them. There isn't transparent disclosure - and then the home buyer gets unexpectedly "whacked" - so people feel conned in the most important purchase of their life. Unfortunately, most consumers have not heard about the difference between a buyer agent (who lists property for sale as does their company) and an Exclusive Buyer Agent (who is fully on their side 100% of the time) - or know anything about the large drawbacks, or benefits respectively.

Taking advantage of people's lack of knowledge through poor disclosure to increase your profits is a sleazy way to run a business- pure and simple. Our goal is to educate consumers about the differences - and in this case - the difference between Spirit and other airlines - so less people get gouged in the future. Fly another airline - and you'll get better service, and pay less!
Don't get bait and switched!



Follow me on Twitter, Facebook or Linked in.

if you are serious about buying a home in the Buffalo Grove area or other areas, within the next 90 days - feel free to contact us.

Visit the Buyer Broker Chicagoland web site for more information.

Call 847-566-7558 or e-mail to schedule a complimentary initial consultation – so that I can determine if you are qualified to be a client. Thanks and have a great day!

Richard Hauser ABR CNC CNE GRI SFR
Managing Broker and President
Buyer Broker Chicagoland

ABR (Accredited Buyer Representative)
CNC (Certified Negotiation Consultant)
CNE(Certified Negotiation Expert)
GRI (Graduate, Realtor Institute)
SFR (Short Sale and Foreclosure Resource Expert)
Past Central Region Director and on Board of Directors of the National Association of Exclusive Buyer Agents
University of Wisconsin-Madison, School of Business - Finance, Investment & Banking Degree