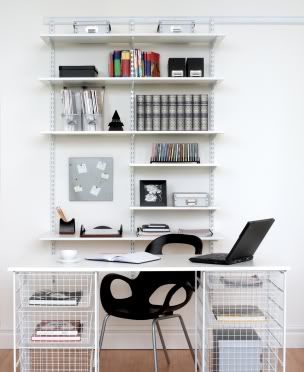 If you are actually going to be productive in a home office, it needs to be designed for use. The elements of a home office have evolved over the years to meet the ever changing needs of the at-home worker. Today's home offices are far more technologically advanced than they once were, but plenty of the basic needs are the same.
Start with the desk. There are many options for this. Two of the best include built-in desks that save floor space and L-shaped desks that provide easy access to all the devices you need, computers, printers, scanners, etc.
Next, stock your office with everything you're going to need. The more often you get up for supplies, the less work you'll get done. If you're distraction prone, a simple trip to the kitchen for scissors could mean an hour or two-long break if you aren't careful!
Have a filing system. It doesn't matter what your system is, it just needs to work. The majority of your desk space needs to remain clear in order for you to be productive.

Even if you don't have an entire room to devote to your home office, you can probably fit everything you need into a dedicated space somewhere in your home.
Remember, for all your real estate needs, call Catherine.
Sincerely,
Catherine Bennison - Realtor Associate
Keller Williams LA Harbor Realty
Direct: (310) 707-2162
Cell: (310) 748-7889
Fax: (310) 519-1882
E-Mail: CBennison@KW.com
Website: www.CatherineBennison.com
DRE# 00946724