Closing an existing charge card can hurt your credit score
What is a Credit Score?
A Credit Score is a number which is calculated, utilizing some sophisticated statistical algorithms, based on your recent (e.g., last two years or so) payment history, history of managing your credits and behavior of paying your loans, credit card, store charge cards, and bills. The Credit Score number predicts likelihood of a person's behavior and paying back the loans over the near-term future based on the person's recent payment history.
Credit Score makes up of the following categories with their respective percentages:
1.Payment History: 35% of your credit score
2.Ratio of Amount Owed to the Credit Line (AO/CL): 30% of your credit score
3.Credit History Length: 15% of your credit score
4.Excessive Number of Inquiries and New Credits: 10% of your credit score
5.Types of Credit and their impacts on your credit score: 10% of your credit score

For detail information, examples, tips and tricks on how to improve your credit score for each category please see my other article at http://www.texasfivestarrealty.com/What_Makes_Up_a_Credit_Score_and_How_To_Improve_it.asp
However, in this article, I am focusing on effect of closing existing credit cards on your credit score, specifically "Length of Credit History".
Like in statistics, test results with larger sample are more reliable than the test results with smaller sample. A person with 20 years of credit history gets much higher score than a person with 6 months of credit history.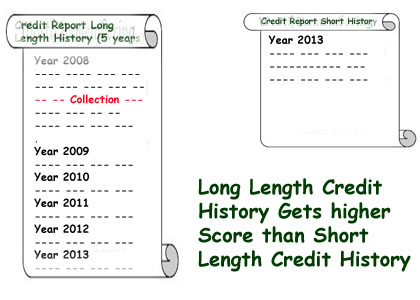 Remember, positive information about your open accounts remains on your credit report indefinitely, therefore you don't want to lose this important information.
TIPS:
As you see on previous example, don't close your "OLD" credit cards, especially if they are no-fee credit cards.
Some creditors will close your account if you don't use them for a while. Don't let it happens to you. Use the following tips to avoid closing your cards
·Use your cards time-by-time and pay your balances in full after receiving your bills. This builds your credit history and credit length.
·If for some reasons, you don't want to use a card or currently have no use for it (e.g., you have a department store charge card with long history but you are not shopping there now) do the following:
TRICKS
oMake a small purchase, e.g., $12.78, wait until you get your bill, pay the rounded amount e.g., $13.00 either by check or online. This causes your balance become a positive (credit) of 22¢ (22 Cents). Remember, as long as you have credit in your balance, they cannot close your account right away.
Some banks or credit card companies do not let you pay online more than your current balance, then follow the following steps:
oEither pay them by check (rounded to the next dollar) OR
oAbout 1 week prior to your billing cycle, make a small purchase of an item but don't use it. When your bills come which includes your last purchase, pay the full balance. Then, wait a couple of days after they receive your payment, return the unused merchandise you bought it last. This will show as an credit in your next bill and sub-sequent bills.
Conclusion: Don't close your credit cards with substantial length of credit history.
For other tips and tricks on how to improve your credit score, please see http://www.texasfivestarrealty.com/What_Makes_Up_a_Credit_Score_and_How_To_Improve_it.asp