Today was a Red-Letter day, but not in the way you think. Every year, Keller Williams (KW) agents nationwide take pause from our busy schedules and does a volunteer project in our communities. Each year gives its own sense of pride from working in a rescue mission to fixing meals for homeless - and always wearing our red t-shirts saying Give Where You Live. This year's pride had a different feeling - patriotic pride and humble appreciation.
This year, on KW's Red Day, I was proud to help set up the traveling exhibit of the Vietnam War Memorial. Working along side veterans, firefighters, and other KW volunteers, the project gave us a chance to reflect on what we were looking at and experiencing. It was somber looking at over 58,000+ names on dozens of panels, each one a son or brother, husband or uncle. It reminded of walking past the original in Washington D.C. years ago and deciding to stop at a panel and look at some names. My eyes were shocked to be staring at my own last name. Say what? In fact, when asked what are the chances of such an odd occurence, I can tell you - 1 in 58,000 because there is ONLY one Ostrander on that Memorial - pretty wild that I would casually see it right when I decided to look. I accept that as fate and not an accident. So, I was very proud to be helping with this project today, meeting and talking with some of the veterans who truly have a story to share.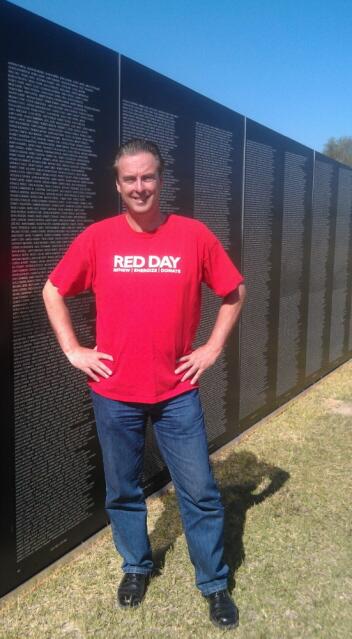 It also reminded me of my own father who served, who was so excited to come home and have a son of his own. Or of my daughter, who as a child, absolutely LOVED putting on her deceased grandfather's military hat as a way of being connected to someone she never met. So, I would encourage you to find out when this exhibit will be in your area and go visit. It will be something you won't forget.
So, as we approach Memorial Day, let us never forget the Veterans who have given their lives so we might experience the freedom we enjoy today. Thank you to all who served.