Sequim real estate has become a hot item, and retirees from around the country are searching for their idea of the perfect Sequim real estate. Now they have help. The largest Sequim real estate blog with over 1,400 articles gives buyers more relevant information about Sequim real estate than any other source.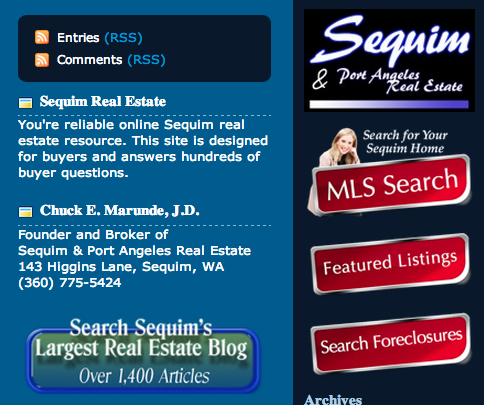 Sequim Real Estate Help
This Sequim real estate blog is written specifically for retirees who are planning to move to the Sequim or Port Angeles area. There are answers for almost every question buyers have been asking about Sequim real estate for 20 years. You'll find answers on issues like:
What is the best Sequim MLS site?, Tips About Negotiating Price on Sequim Real Estate, Sequim Septic Systems, An Insider Perspective on Sequim Home Prices, Mistakes Sellers Are Making, Traps for Unwary Buyers, Is the Sequim Real Estate Market Recovering?, Things Buyers Wish They Knew, How to Search for Sequim Homes and Land, Private Wells, Homeowners' Associations, Sequim Weather, Sequim Recreation, Sequim Volunteer Work, The Land Buyer's Checklist, Home Inspection Issues, and much more.
You'll find this rich resource at Sequim Real Estate.
Sequim Real Estate MLS
The most powerful and easy to navigate MLS site is free to use and is located at Sequim Home Listings.
Sequim Real Estate Answers
Buyers can also ask Sequim real estate questions from real estate attorney (ret.) Chuck Marunde, J.D. who is also a Sequim Buyer's Agent and the broker of Sequim & Port Angeles Real Estate. There is a real estate site devoted to Sequim Real Estate Q&A which you'll find at Sequim WA.