Barry Glick, owner of Sunshine Farm & Gardens in Renick, WV poses the question to his visitors while showing them around the gardens,"Would you like to see a hardy African Violet on steroids?"
Barry says, "They invariably bite as we hurriedly stroll over to a shade bed under a 60 foot tall Betula pendula and I gleamingly point to a particular drift of ground hugging plants. Their jaws drop. The comments usually range from 'I had no idea that there was a hardy African Violet!' to 'I've never imagined an African Violet with foliage that huge!' Inevitably, they ask if I have any for sale - no matter what it is."
What is this plant?...... you're probably asking yourself about now. It's Bergenia ciliata, an extremely hardy, early flowering, shade loving, sun tolerant, perennial member of the Saxifrage family. It's native to some very high peaks of the Himalayas, so you know it's going to be hardy just about anywhere.

This welcome addition to any flower garden also happens to be very heat tolerant as Barry has kept several pots of it in a greenhouse that hits triple digits in the Summer heat and the foliage was still firm.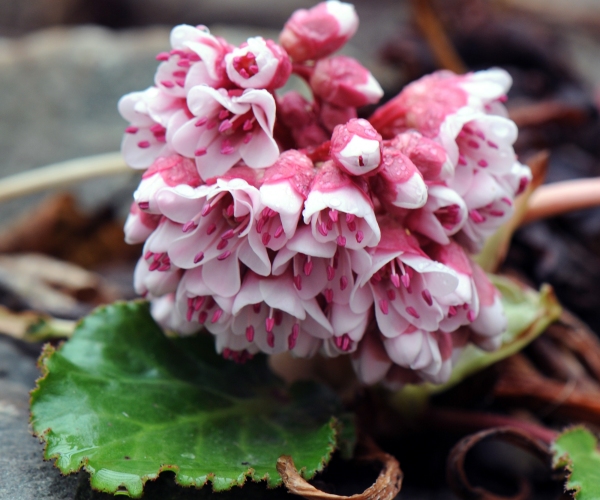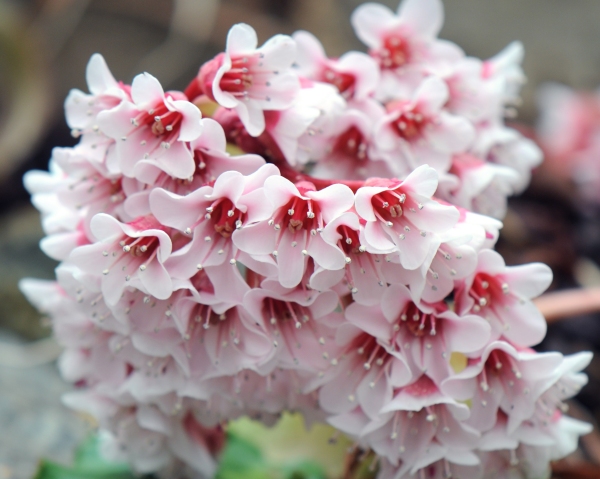 Above photos were sent to Barry from his friend Todd Boland at the Memorial University of Newfoundland Botanical Garden for the use of his excellent images of Bergenia ciliata in flower.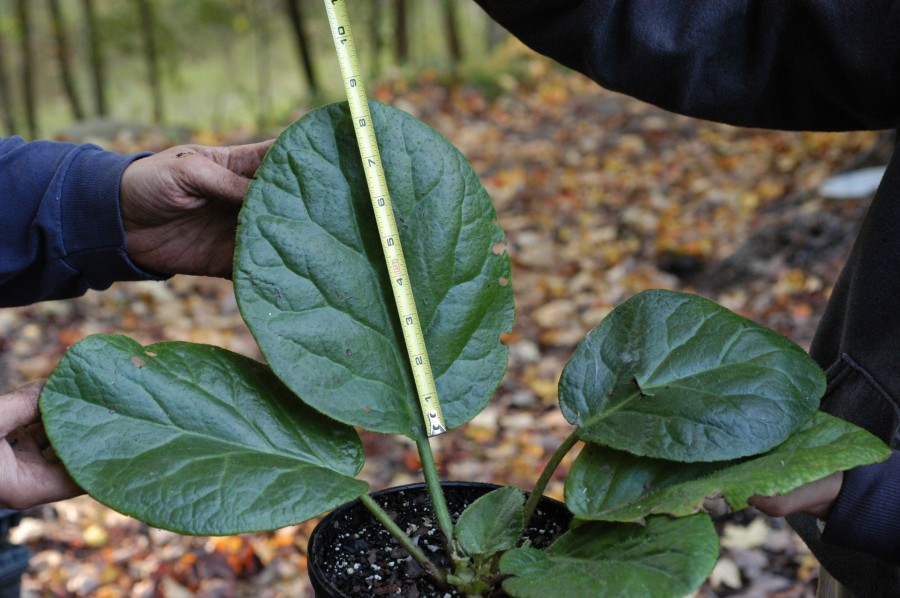 Barry's image above is a 2-year old plant in a gallon pot. He says he has even experienced leaves LARGER than this in the ground. If you like clouds of pink and white flowers in very early Spring and huge, dramatic, deer-proof, rabbit-proof, comment enticing, African Violet-like foliage the rest of the gardening season, then this plant belongs in your garden.
Barry has about 1000 2" pots to share with you. Pricing follows for plants shipped in their pots.
The quantity is limited to seven plants per person. (3 plants for $ 25.00 or 7 for $ 50.00). Shipping via PRIORITY MAIL is FREE!!! Fill out the order form at http://www.sunfarm.com/orderform.pdf
My first visit to Sunshine Farm and Gardens was very interesting...check out my post, A Drive to Almost Heaven, Sunshine Farm and Gardens, Renick, WV. During my visit last year I purchased a tray of Hellebores, and I'm hoping they will have blooms soon. I like these plants as the deer stay away from them.
Sunshine Farm & Gardens is the brainchild of Barry Glick, who takes full responsibility for all of the chaos and havoc surrounding the incredible palette of rare and unusual, but mostly idiotproof plants. In the past 32 years he has managed to amass a diverse collection of well over 10,000 different, hardy to zone 5 perennials, bulbs, trees and shrubs from every corner of the Earth on the 60-acre mountain top at 3000 feet in beautiful Greenbrier County WV. You can read about Barry Glick in GQ magazine at http://sunfarm.com/images/GVQ08-2.pdf


Contact Information:
Barry Glick
696 Glicks Rd
Renick WV 24966 USA
304-497-2208
EMAIL - barry@sunfarm.com
Check out Sunshine Farm and Gardens and take a VIRTUAL TOUR OF Barry's GARDENS. This information is brought to you as a courtesy by Rebecca Gaujot, Realtor® with Coldwell Banker Stuart and Watts.