In This Issue

Last Week in Review: The Jobs Report for May was released, plus more good news in the housing sector.
Forecast for the Week: Look for Retail Sales, Consumer Sentiment and inflation data at the end of the week.
View: Be smart about using your smart phone with the important tips below.
Last Week in Review


"You ain't a beauty, but hey you're alright." Those lyrics from the Bruce Springsteen song Thunder Road are a good description for the May Jobs Report. Read on to learn why.
On Friday, the Labor Department reported that 175,000 new jobs were created in May, above the 159,000 expected, while the unemployment rate rose to 7.6 percent from 7.5 percent. The increase in the unemployment rate was due to more job seekers entering the labor force.The Jobs Report also showed that the Labor Force Participation Rate (LFPR) ticked up to 63.4 percent from the thirty-five year low of 63.3 percent. The LFPR calculation is quite simple. If you are 16 years old and not in the military, then you either have a job or you don't. The ratio of people "participating" or working is then compared to the total population.

Over in the housing sector, research firm CoreLogic reported that national home prices, including distressed sales, rose 12.1 percent in the year ended in April and were up 3.2 percent from March to April. The rise was the largest annual gain since February 2006. However, prices are still 22.4 percent lower than their peak from April 2006. Overall, the housing sector continues to receive positive news.

What does all of this mean for home loan rates? It's important to remember that home loan rates are tied to Mortgage Bonds and as Mortgage Bonds improve, home loan rates improve. Positive economic news, like the positive job and housing news from last week, often causes money to flow out of Bonds and into Stocks, as investors hope to take advantage of gains. This can cause both Bonds--and therefore home loan rates--to worsen, and that has been a dynamic we have seen of late.

It's also important to note that the Fed has been purchasing Bonds and Treasuries at the rate of $85 billion a month in the hopes of stimulating the economy overall and the job and housing markets. This has helped Bonds and home loan rates remain attractive. However, as the housing and labor markets have begun to improve, there has been talk that the Fed should taper their purchases soon. This could have a big impact on the markets and also home loan rates, and it's an important story to watch in the weeks and months ahead.

The bottom line is that now is a great time to consider a home purchase or refinance, as home loan rates remain attractive near historic lows. Let me know if I can answer any questions at all for you or your clients.
Forecast for the Week


Economic reports begin on Thursday and there are several important items to watch.
As usual, Weekly Initial Jobless Claims will be reported Thursday. Initial Jobless Claims fell by 11,000 in the latest week to 346,000, coming in just below expectations. The range of recent claims numbers could signal that federal budget cuts and payroll tax increases may not be impacting employers' headcounts at firms across the nation.
Also on Thursday, Retail Sales for May will be reported.
On Friday, we end the week with the Producer Price Index, which measures inflation at the wholesale level, and the Consumer Sentiment Index.
Remember: Weak economic news normally causes money to flow out of Stocks and into Bonds, helping Bonds and home loan rates improve, while strong economic news normally has the opposite result. The chart below shows Mortgage Backed Securities (MBS), which are the type of Bond that home loan rates are based on.
When you see these Bond prices moving higher, it means home loan rates are improving -- and when they are moving lower, home loan rates are getting worse.
To go one step further -- a red "candle" means that MBS worsened during the day, while a green "candle" means MBS improved during the day. Depending on how dramatic the changes were on any given day, this can cause rate changes throughout the day, as well as on the rate sheets we start with each morning.
As you can see in the chart below, Bonds and home loan rates remain at attractive levels. I will continue to monitor their movement closely.
Chart: Fannie Mae 3.0% Mortgage Bond (Friday Jun 07, 2013)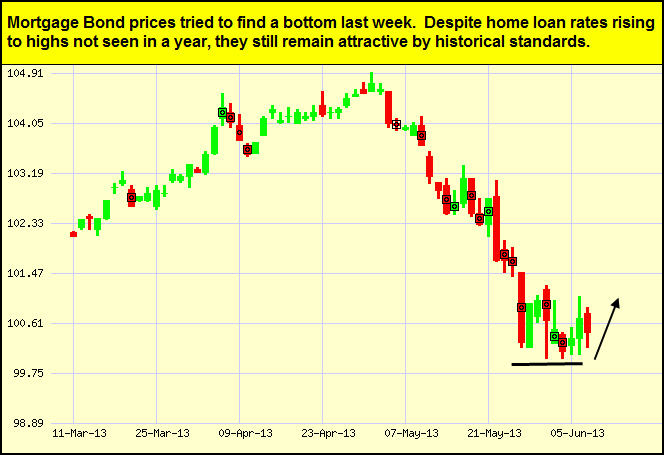 The Mortgage Market Guide View...


3 Simple Steps to Secure Your Smart Phone
Your cell phone is an easy target for pickpockets and identity thieves. Keep it safe.
By Kiplinger's Personal Finance magazine, Kiplinger.com A smart phone puts your e-mail in-box, contact list and financial accounts at your fingertips. But information could easily land in a stranger's hands. Here's how to protect your phone.Step 1
Open your phone's security settings and select a password, PIN or pattern to lock the screen. You'll enter it each time you use your phone.Step 2
Set up the ability to track your phone's location online and erase its data in case the phone is lost or stolen. Android users can download an app such as the free Android Lost. The iPhone comes with Find My iPhone, which you must activate on the device through iCloud. Windows Phone owners can log in to their Microsoft accounts to use the built-in Find My Phone feature.Step 3
Before downloading an unfamiliar app, search the Web for reviews to verify that its developer is legitimate. For online activity, using your cellular data plan helps keep your information safe. If you turn on Wi-Fi through your phone's network settings, avoid unsecured networks (you'll have to enter a password to access secured Wi-Fi). Install software updates as soon as you receive notices about them. And log out of banking apps after you use them (as well as any others that might include sensitive data).The payoff
Your data stays private.

Reprinted with permission. All Contents (c)2013 The Kiplinger Washington Editors. Kiplinger.com.

Economic Calendar for the Week of June 10 - June 14
---
If you find this helpful please let us know, just leave us a comment review.
Just click Give A Review.
A simple Thank You message means a lot to us.
Don't have a Google account?
How about one of these options?
Submit Video Reviews For Us!
Click here
Or You can call Christian Penner directly to
---
#Christian Penner, #Mortgage Broker West Palm Beach talks about #Real Estate West Palm Beach. He also serves other Local Areas and provides home #Mortgage Solutions for Palm Beach Gardens, #Jupiter, #Boca Raton, #Wellington and #Tequesta. #Christian Penner Mortgage Broker Jupiter has the #lowest mortgage rates and the best #home mortgage programs like; #Jumbo loans, #FHA Home Loans, #VA Home Loans, #Reverse Mortgage Home Loans, #Freddie Mac Home Loans, #Fannie Mae Home Loans and #HARP Mortgage Loans. #Christian Penner Mortgage Broker Palm Beach Gardens has Served the area for over 15 years with his #Home Loan Lending Needs and Works with #FEMBI Mortgage in Jupiter.

You Can Also Find Him On
Facebook at: http://Facebook.com/YourMortgageBanker
- - -


- - -





Housing: Look for Retail Sales, Consumer Sentiment and inflation data at the end of the week.