FARMERS MARKETS OF SAN LUIS OBISPO COUNTY
Did you know that back in the early 1980's, the city of San Luis Obispo blocked off Higuera Street to prevent teenagers from cruising in cars on Thursday evenings? Rumor has it that a local resident returning from a trip to Italy came up with the idea of using the empty street for a Farmers Market, like they had experienced in Italy … and San Luis Obispo's Farmers Market was born!
One of the oldest Farmers Markets
Did you know that San Luis Obispo County is home to one of the oldest and largest Farmers Markets located within the United States?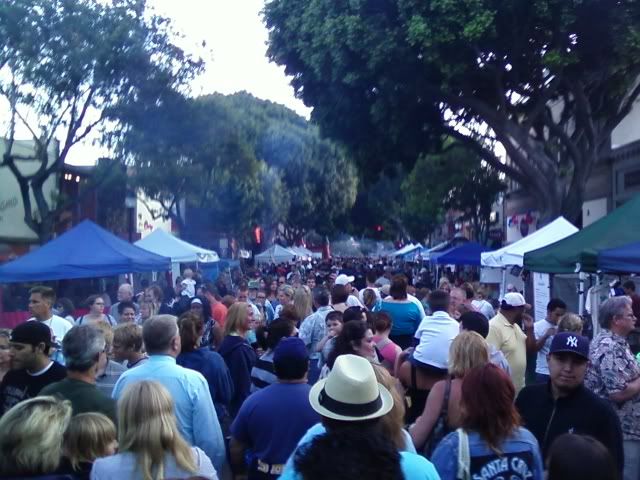 Photo: San Luis Obispo, CA Farmers Market
Family Fun Night!
Since 1983, every Thursday night the main street of San Luis Obispo is blocked off and dozens of farmers set up their booths. Here you will find farm fresh vegetables and fruit, organic produce, flowers, food and entertainment. This downtown Farmers Market has attracted thousands of people who come not only to make purchases, but to enjoy the atmosphere. It's truly "fun for all" … and a great "family fun" night!
Farmers Market nearly Every Night!
Did you know that now, in San Luis Obispo County, you can to go to a different Farmers Market virtually every day of the week? It's true! Most cities within the county hold their very own Farmers Market, on various days, and each is unique and special in their own way.
Here are some of the other Farmers Markets in the San Luis Obispo area that you can enjoy. (check with the local Chamber to confirm times and locations)
MONDAY:
Baywood Park (downtown) 2:00pm – 4:30pm
TUESDAY:
Paso Robles (downtown city park) 3:00pm – 6:00pm
WEDNESDAY:
Arroyo Grande (Spencer's parking lot/Courtland & E. Grand) 8:30am – 11:00am
Atascadero (downtown Sunken Gardens) 3:00pm – 6:00pm
THURSDAY:
Morro Bay (Spencer's parking lot/2650 Main Street) 2:30pm – 5:00pm
San Luis Obispo (downtown/Higuera Street) 6:00pm – 9:00pm
FRIDAY:
Paso Robles (WalMart parking lot/S. River & Niblick Rd.) 9:00am – Noon
Cambria (Vet's Hall parking lot/1000 Main St.) 2:30pm – 5:00pm
Cayucos (Vets Hall downtown) 10:00am - 12:30pm (Memorial Day – Labor Day Only)
Avila Beach (Downtown Promenade) 4:00pm – 8:00pm (April – Sept. Only)
SATURDAY:
San Luis Obispo (Cost Plus parking lot/Madonna Rd) 8:00am - 10:30am
Paso Robles (downtown city park) 9:00am – 1:00pm
Templeton (downtown park) 9:00am – 12:30pm
Arroyo Grande (downtown gazebo/Branch St.) Noon – 2:30pm
Morro Bay (downtown/Main Street) 2:30pm – 5:00pm
SUNDAY:
Nipomo (Monarch Dunes Country Club/1645 Trilogy Pkwy) 11:30am - 2:30pm
Grover Beach (Ramona Garden Park/995 Ramona) 3:00pm – 6:00pm (June – Sept. Only)