Home dwellers can show great creativity when faced with less-than-ideal circumstances such as a tight budget, a small space or a boring rental. Even the most mundane and unexpected items — FedEx boxes, mason jars, metal salad bowls and wine bottles — find second lives as decor in their hands. Take a look at these 20 creative DIYs and get inspired for your next weekend project.
2. Flying-carpet coffee table.
 The illusion of this fantastic flying-carpet table adds a little bit of magic to this DIY-heavy apartment. A small Persian rug rests on top of a piece of plywood. Once removed, the plywood reveals a small wooden coffee table with a built-in wine cooler.
See this house: Ultimate Live-Work Space Adapts to the Needs of the Day
3. Wallpapered stair risers. 
Leftover wallpaper and vintage address numbers pasted onto this Vancouver staircase risers make for a fun, interactive way for the homeowner's young daughter to learn to count.
See this house: Quirky, Colorful Vancouver Heritage Home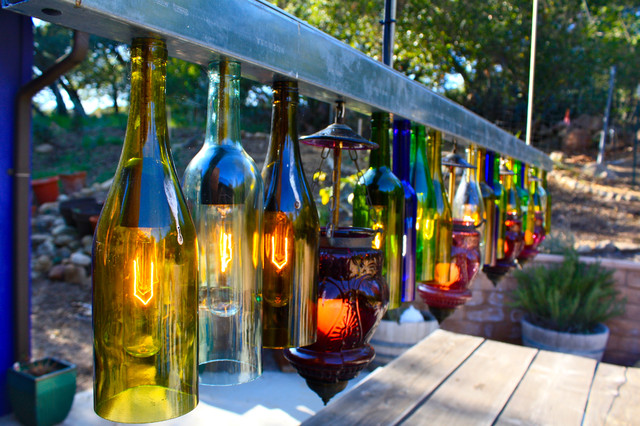 5. Outdoor-friendly wine-bottle light fixture. 
This homeowner made an outdoor light fixture out of empty wine bottles and a steel bar. Edison bulbs alternate with tea lights for extra charm.
See this house: Eclectic, Artistic Rented House in Ojai
6. DIY salad-bowl sink.
A sturdy stainless steel salad bowl fit the bill for a modern and affordable sink in this home. The bottom of the bowl was simply drilled through for the plumbing.
See this house: Creative Open-Concept Home in Toronto
7. Free-form wallpaper substitute. This homeowner took a time- and money-saving approach to her wall decor — instead of hanging wallpaper, she painted a simple circular pattern, inspired by a favorite designer.
Check out the Rest of the Projects Here!
Source: http://www.houzz.com/ideabooks/12485661/list/20-Wonderfully-Inventive-DIY-Projects-by-Houzzers
By: Vanessa Brunner