123 Baxter Street Condos for Sale, Little Italy Manhattan New York City
Find similar condos for sale to the 123 Baxter Street Condos for Sale Little Italy Manhattan New York City
Get the value for your Manhattan condominium in today's market.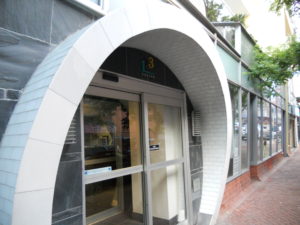 Been going to those open houses and not finding what you want? Cramped little spaces, no sunlight, needs renovations, well you can stop your search! 123 Baxter Street Condominium is one of downtown Manhattan's hidden gems for condominium buyers. 123 Baxter Street Condominium is one of the most conveniently located buildings in all of Manhattan. You are literally at the crossroads of Little Italy, Chinatown, Soho, Nolita, Tribeca, and the Lower East Side in 1 location! Located at the corner of Baxter Street and Hester Street, you are one block from the famous Mulberry Street in Little Italy, one of the most historic and quintessential New York City streets. 123 Baxter Street is one of the only full time doorman new construction condominium buildings in this area, making it that much more appealing. For the discerning downtown Manhattan condominium buyer, 123 Baxter Street has all of the amenities that you have been looking for, doorman, one of the most amazing panoramic roof decks, fitness room and an automated garage for those who have a car in the city.
123 Baxter Street Condos are Enormous and Renovated
Some of the largest apartments with accompanying outdoor space in the downtown condo market are located at 123 Baxter Street Condos for Sale. Built in 2007, a ground up new construction condominium, only 23 residential units exist in the building. Some of the residences at 123 Baxter Street have their very own private key elevator access, so imagine the elevator opens up directly into your apartment!! Apartments are easily described as spacious with a variety of layouts including 1 bedrooms, 1 bedrooms with home offices, two and three bedrooms. Most units have outdoor space that is a much desirable feature for any condominium in Manhattan. The kitchen and bathrooms were designed with luxury amenities in mind. Kitchens have built in Miele coffee machines, 5 burner gas cook top, LG refrigerators with built in LCD screens, Miele dishwashers. The bathrooms are massive, glass tiled walls, dual vanities, custom enclosed showers. Convenient features such as Washer/Dryer's, large walk in closets, open kitchens, powder room's for your guests, are some of the reasons why people love living at 123 Baxter Street. The outdoor space has electricity and water already set up.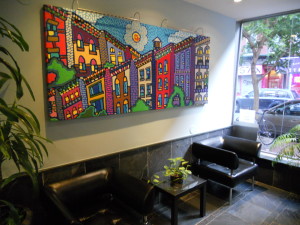 123 Baxter Street Condominiums is a Full Time Doorman Building
There are very few full time doorman condominiums for sale in the Chinatown/Little Italy Neighborhoods. Do you worry about packages being delivered and signed for, you probably don't have time to get your dry cleaning or how about somebody to help you with your heavy bags, well you don't have to worry anymore.
The Roof Deck at 123 Baxter Street is a Must-See, 360 degree panoramic views
The Automated Garage is extremely unique, very cool and you can access the building's lobby from the garage, perfect and convenient
Living in the Little Italy-Chinatown Neighborhood
Living in this neighborhood will provide you with the best of downtown Manhattan living. Just minutes to your favorite restaurants or shopping in Soho and Nolita. Or if you want to walk down Mulberry Street and experince the best of Little Italy you are just One (1) Block away. The influence and energy of Chinatown will be at your fingertips. So many words to describe living in this neighborhood: Fun, energetic, historic, convenient. One thing for sure, you have no excuse to ever go hungry living at 123 Baxter Street. If you end up living at 123 Baxter Street you will have the best of everything, an amazing downtown apartment within one of the most exciting downtown Manhattan locations.
Want to know if any Condos are for sale at 123 Baxter Street?
Contact us here or call me at (917) 837-8869.