Hill-Rom® Advance Hospital Beds for Sale
San Diego, Los Angeles, Orange County California

Used electric hospital beds for sale including the
Hill-Rom® Advance Hospital Beds used, reconditioned
and refurbished ready for immediate use.

The Hill Rom Advance beds is one of the most popular
electric hospital beds for sale in the used bed market.

Hill-Rom® ADVANCE HOSPITAL BED PRICING

1 bed reconditioned price / cost = $1595 with new mattress

10+ beds = $1,350.00 includes new mattress.

50+ beds = $1,250 includes new mattress

Get shipping and rate quotes for all makes of
Hill Rom Advance Series beds, Advanta beds,
Century and Centra beds and Versa Care beds.

Sean 858-731-7278
getinfo@san.rr.com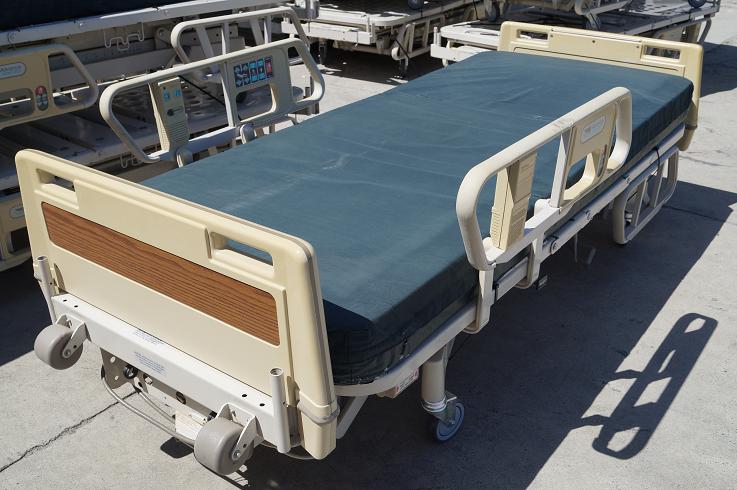 http://www.1hospitalbeds.com/hill-rom-advance-beds/
http://www.agreatertown.com/san_diego_ca/hill_rom_advance_hospital_beds_for_sale_used_recondioned_refurbished_000455877




Hill Rom Advance hospital beds sold fully refurbished with new paint, wheels, clutches, brakes and more!


Hospital Direct Medical Equipment
"Quality Used and Refurbished Medical Equipment"

2121 Oceanside Blvd.
Oceanside, CA. 92054
USA Office phone: (858) 731-7278
USA Email: getinfo@san.rr.com

Mexico / Latin America
Gloria Flores (858) 922-6862
Se habla español
Mexico / Latin America Email
g1medinfo@gmail.com

Se habla español Gloria Flores

Korea / China / Asia
Mr. Tae Kim (831) 464-8470
Korea / China / Asia Email
koffee46@gmail.com


How Many Hospital Beds Fit Into a Metal Shipping Container?

A 20 foot container can normally hold 30 hospital beds
although with some models that number may be 27-28
to save room for headboards, footboards and other items.

60 beds can normally fit into a 40 foot container.

We ship hospital beds all over the world - here
is our Los Angeles warehouse where we recondition all
Hill Rom bed models including Advance, Advanta and Centra
Hospital beds.



Advance Series Hospital beds by Hill Rom including 1000, 1105, 1125, 1135, 2000 and more!


ORDER Hill Rom Advance beds call 858-731-7278
or email us for rate quotes getinfo@san.rr.com

Hospital Direct Medical Equipment
"Quality Used and Refurbished Medical Equipment"