In This Issue

Last Week in Review: The holiday-shortened week didn't stop the volatility in the markets. Plus the Jobs Report for June was released.

Forecast for the Week: Independence Day may be over, but there could be more fireworks in the second half of the week.

View: Ever wondered if you should accept an invitation on LinkedIn? Check out the answers below.
Last Week in Review


"Yet, through all the Gloom, I can see the Rays of ravishing Light and Glory." Those words that John Adams wrote to his wife Abigail are appropriate as we celebrate our nation's birthday--and as the employment picture brightens with the latest Jobs Report.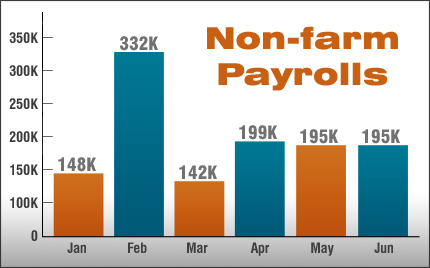 Non-farm payrolls surged by 195,000 in June, well above the 166,000 expected, while the data for April and May was revised higher by 70,000. The Unemployment Rate remained at 7.6 percent in June, but the U6 number, which includes people who can only find part-time work or have become too discouraged to look for a job, rose to 14.3 percent.For the first half of 2013, employers have added an average of 201,000 jobs each month as the labor markets continue to improve. The Fed is watching this number very closely and it will be a determining factor in how long they continue their Bond purchase program known as Quantitative Easing.

The housing market is another key factor in this decision and the good news continues in that sector as well. Last week, research firm CoreLogic reported that home prices, including distressed sales, rose by 12.2 percent in May 2013 compared to May 2012. This is the biggest annual gain since February 2006. However, prices are 20.4 percent below the peak set back in April 2006. Tight inventories and historically attractive home loan rates have been the fuel behind the rise.

What does all of this mean for home loan rates?

Remember that the Fed's Bond purchase program has helped Bonds and home loan rates remain attractive. But if the housing and labor markets continue to improve, the Fed could consider tapering their purchases sooner rather than later. However, just the talk of potentially tapering these purchases has led to increased volatility in the markets, causing Mortgage Bonds and home loan rates to worsen recently. This is an important story to monitor in the weeks ahead.

The bottom line is that now remains a great time to consider a home purchase or refinance, as home loan rates remain attractive compared to historical levels. Let me know if I can answer any questions at all for you or your clients.
Forecast for the Week


The calendar will be busy in the second half of the week, with several key reports.
On Wednesday, the latest FOMC Meeting Minutes will be released and these always have the potential to move the markets, especially if the minutes reveal more about the Fed's plans to taper Bond purchases.
Weekly Initial Jobless Claims will be released on Thursday. Last week, Initial Jobless Claims fell to 343,000, below expectations, but the number has been stuck in the current range for quite some time.
Ending the week, we'll get a read on inflation at the wholesale level with the Producer Price Index. Plus, the Consumer Sentiment Index for July will be released.
Remember: Weak economic news normally causes money to flow out of Stocks and into Bonds, helping Bonds and home loan rates improve, while strong economic news normally has the opposite result. The chart below shows Mortgage Backed Securities (MBS), which are the type of Bond that home loan rates are based on.
When you see these Bond prices moving higher, it means home loan rates are improving -- and when they are moving lower, home loan rates are getting worse.
To go one step further -- a red "candle" means that MBS worsened during the day, while a green "candle" means MBS improved during the day. Depending on how dramatic the changes were on any given day, this can cause rate changes throughout the day, as well as on the rate sheets we start with each morning.
As you can see in the chart below, Bonds and home loan rates worsened late last week after the positive Jobs Report for June. I'll continue to monitor their movement closely.
Chart:

Fannie Mae

3.5% Mortgage Bond (Friday Jul 05, 2013)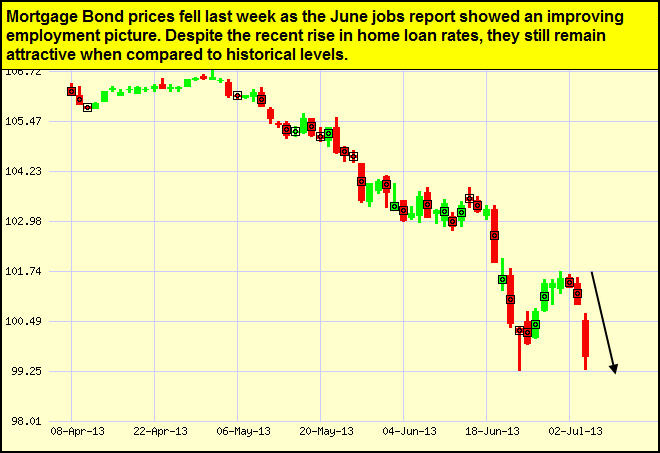 The Mortgage Market Guide View...

LinkedIn Connections
To Accept or Not To Accept: That Is The Question
LinkedIn can be a powerful tool for getting introduced, growing referrals, and expanding strategic business relationships. But did you know you can also use it to support just about any business goal you have?
Remember that on LinkedIn, it's not the player with the most connections who wins the game; it's the player with the most genuine connections. In the early days of LinkedIn, you would be required to know your connection in order to make the request. But the rules have been expanded and now there's a way to connect with practically anyone. How do you select who to connect with and who to ignore?
Use the introduction machine. Trying to make connections organically can take years, but LinkedIn can help you identify power players, and get introduced fast.
Weakest links. The problem with accepting any connection request is if you don't know most of them, you make links very weak. Think of it this way: How likely will you be to ask total strangers for favors? After all, they don't really know you.
Enter the Favor Test. In her new book, Work Smarter with LinkedIn, Alexandra Samuel describes her method. The Favor Test is simply this: Would you be willing to do a favor for this person, or ask them to do one for you? According to Samuel, "A favor isn't constrained to an introduction; other kinds of requests come into play on LinkedIn.... Would you support my charity? Will you attend my conference? Can you review my book?"
Two way street. The point of the Favor Test, according to Samuel, is to utilize the two-way quality of connections. When you make introductions or meet a key individual, LinkedIn shows some power. But when you reach beyond sales targets or gaining referrals--and start to create an asset you can share with people you believe in--you begin to build a network that can help support just about any business goal you have.
Take a moment to review your LinkedIn connections and see if they meet the Favor Test.
And don't forget to pass these tips along to your clients and colleagues.
Economic Calendar for the Week of July 08 - July 12
---
If you find this helpful please let us know, just leave us a comment review.
Just click Give A Review.
A simple Thank You message means a lot to us.
Don't have a Google account?
How about one of these options?
Submit Video Reviews For Us! Click here!
Or You can call Christian Penner directly to
---
#Christian Penner, #Mortgage Broker West Palm Beach talks about #Real Estate West Palm Beach. He also serves other Local Areas and provides home #Mortgage Solutions for Palm Beach Gardens, #Jupiter, #Boca Raton, #Wellington and #Tequesta. #Christian Penner Mortgage Broker Jupiter has the #lowest mortgage rates and the best #home mortgage programs like; #Jumbo loans, #FHA Home Loans, #VA Home Loans, #Reverse Mortgage Home Loans, #Freddie Mac Home Loans, #Fannie Mae Home Loans and #HARP Mortgage Loans. #Christian Penner Mortgage Broker Palm Beach Gardens has Served the area for over 15 years with his #Home Loan Lending Needs and Works with #FEMBI Mortgage in Jupiter.

You Can Also Find Him On
Facebook at: http://Facebook.com/YourMortgageBanker
- - -


- - -