Gramercy Starck Condos for Sale, Gramercy Neighborhood New York City
Find similar condos for sale to the Gramercy Starck Condos for Sale, Gramercy New York City Manhattan
Get the value of your Manhattan Condo in today's market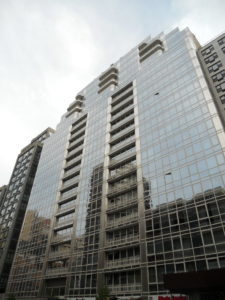 One of the most in-demand new condominium buildings in Gramerecy Park are the Condos for Sale at Gramercy Starck Gramercy Starck is one of the only new construction condos in the Gramercy Neighborhood. Built in 2007, as a ground up new construction condominium and designed by the world renowned Philippe Starck. Gramercy Starck has distinguished itself as a destination condominium that must be seen. Located in the Gramercy Neighborhood, just blocks from the famous Gramercy Park, the building is located on 23rd Street between Second and First Avenues. The building is made up of approximately 210 units, varying in size from studio, one bedroom, two bedrooms, three bedrooms, duplex and penthouse apartments. There really is something for everybody at Gramercy Starck. An expansive amenity package starts off with a full time doorman and concierge. One of the cooler looking fitness rooms, a residents lounge including screening room, billiards room, kitchen for private parties and 2nd floor terrace with outdoor gas fireplace. An amazing roof deck with cabanas and furniture with amazing Northern views of the iconic Empire State Building really highlights the amenity package. A great location for anybody looking for a condo to near NYU, The School of Visual Arts, the medical hospitals in the neighborhood, and Parsons.
Gramercy Starck Apartments are Stylish, Modern, and an Excellent New Construction Value
Gramercy Starck Condominiums for Sale are very popular because they offer what I consider an excellent value to buy what is just a few year old condominium.
Take for example the new construction marketplace, the entry level pricing for a 1 bedroom is probably 1.2-1.3 million, and this would be for a standard apartment. For a high floor, better exposure, more square feet you could easily be paying 1.8 million and up.
But at Gramercy Starck, you can buy a One Bedroom from $850,000 to $1.1 million. A relative bargain compared to the premium prices for new construction.
What's great about the building is that there are a variety of condominium sizes.
Studios that range in size around 440 sq ft, 1 bedrooms that range in size from 640-770 sq ft , 2 bedrooms that range in size from 1000-1300 sq ft and 3 bedrooms that typically start in the 1600 sq ft range. Duplex and Penthouse units are some of the most fantastic units in the building. When you walk into the building, you will instantly know where you are, Philippe Starck's design is quite evident. Very stylish, chic, clean lines, Philippe Starck furniture, over-sized pieces, the building definitely has a hotel feel and quality to it. The apartments themselves are a reflection of the design elements found throughout the building. You can expect modern layouts with engineered hardwood floors throughout the kitchen, living room and bedroom. The bathrooms are noteworthy for their large size and 1 bedroom and larger units have a stand alone spa like soaking tub. Walk in showers, beautiful vanities, pendant lighting, floor to ceiling tile all make the bathrooms at Gramercy Starck some of the most stylish for any condominium building. Gramercy Starck Price ranges(Please note, pricing is always changing, so contact us for the current pricing and availability)
Studio's are starting in the $590,000 and go up to approximately $700,000

One Bedrooms start around $900,000 and go up to $1,100,000

Two Bedrooms are starting at $1,600,000 and go up to $2,500,000 for the penthouse or duplex units
The Gramercy Starck is Investor Friendly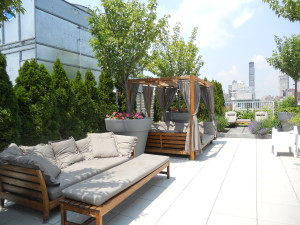 There are always a handful of rentals on the market at Gramercy Starck. What I consider low common charges and an investor friendly 421-A Tax Abatement make carrying costs quite low, so investment returns are quite favorable. Afterall Gramercy Starck is a condominium and an investor can purchase an apartment and rent it out immediately for however long they choose. Lease length must be 12 month leases, and you can rent them furnished or unfurnished. There is more demand for unfurnished. There is an application process to rent an apartment and there are fee's associated for both the owner and the tenant when renting. As of June 2013, AKAM Associates is the management company. Because the Gramercy Starck is condo near a variety of schools, hospitals including NYU, SVA - School of Visual Arts, Beth Israel, NYU Medical Centers there is always a large demand for rentals.
Living in the Gramercy Park Neighborhood
Walk outside the doors of Gramercy Starck and enter the beautiful Gramercy Park neighborhood, one of downtown Manhattan's most desirable locations. The area has the best of everything. You have the ambiance of the tree-lined streets, along with a variety of restaurants, but still close to transportation, schools, and midtown Manhattan. The Gramercy Starck Condos in the Gramercy Park Neighborhood will be great place to call your home. If you are looking for a stylish new condominium than Gramercy Starck is a must see for your search. You can find condos for sale in Gramercy Starck (if there are any available today) as well as all available Manhattan NYC condos for sale on my website.
For all information regarding Gramercy Starck Apartments for Sale or for Rent go to the buiding website.
Would you like to know how much your Manhattan Condo is Worth?
Call us today at (917) 837-8869 OR email us at Morgan.Evans(at)Elliman.com