Dorchester Towers Condos for Sale, Lincoln Square Upper West Side New York City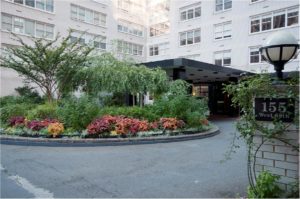 It's an exciting time to be looking at condos for sale at Dorchester Towers at 155 West 68th Street. With a full renovation of the lobby that is about to be completed, you will feel like you are walking into a luxury hotel when walking into Dorchester Towers Condominiums. They added a fitness room and will be starting a full renovation of the hallways once the lobby is completed.
Dorchester Towers at 155 West 68th Street New York, New York 10023 is one of the very most well established condominium buildings in the area. Originally built in 1965 and converted into condominiums in the late 1980s, Dorchester Towers is a big building with approximately 680 apartments, comprised of a variety of apartment sizes including alcove studio's, one bedrooms, junior 4's(One Bedr0oms with a dining alcove, two bedrooms and a few larger combination units. A full time doorman building, with an expanding amenity package that includes a fitness room, renovated lobby, live-in super, laundry on every floor up to 22nd floor, roof deck, bike and storage rooms, garage, and wonderful staff. Dorchester Towers Condos for Sale is a definite must see for Upper West Side Condominium buyers.
Dorchester Towers Condominiums is a Great Location
Why do the Condos for Sale at Dorchester Tower's Condominiums sell so quickly? First, the location of the building at 68th and Broadway is prime Lincoln Square territory. A few blocks north of Lincoln Center you are close but not right on top of the hustle and bustle of the Lincoln Center facilities, a few blocks to the East is Central Park, a few blocks West is Riverside Park, a few blocks to the popular PS 199 School, essentially you are within just a few minutes of pretty much everything that epitomizes living in the Upper West Side. You can get to the restaurants on Columbus Avenue, grocery stores including Fairway, Trader Joe's, Citarella, or Zabar's is about 10 minutes away on 81st and Broadway.
Dorchester Towers is in the mi

dst of a Huge Renovation

Another reasons why now may be the right time to buy a Dorchester Towers Condominium for Sale. The Dorchester Towers is in the final stages of what was a complete renovation of the lobby level. A complete transformation has occurred and was very tastefully designed. The addition of a FITNESS ROOM/GYM was added to the amenity package as part of the renovation, this is a HUGE selling point. A gym was one of the missing pieces that we often saw buyer's asking about prior to looking at the building. Also in addition to the lobby renovation is a planned renovation of the hallways in the building. As of the time of this posting, the hallway renovations haven't started but they are definitely coming. This combination of lobby renovation and hallway renovation will essentially give the Dorchester Tower's a complete interior makeover and we expect prices to increase because of these capital improvements.
Pricing for Dorchester Tower's Condos for Sale
The last studio sold for $709,000, $20,000 over the asking price. This sets a new price point for alcove studio's in the building

No One Bedroom's have sold in 2013, but I'd expect a huge turnout when we get our next one bedroom listing, expect pricing to start in the $750,000 range if its decent condition.

Junior 4 Bedrooms have sold over $1,000,000 recently and are asking up to $1,400,000 for the most well renovated and high floor units

Two Bedrooms will be selling for somewhere between $1,600,000-$2,250,000 depending on size, floor and condition
Great Closets, Efficient Layouts
You can never have enough closet space and something I always hear about Dorchester Tower Apartments for Sale is how good the closets are. Dorchester Tower's is a big building with a lot of different layouts, a few are sort of quirky but most are extremely efficient, with very little wasted space, easy to lay out to maximize every square inch of living space. There are a lot of apartments with conversion potential, turning an alcove studio into a Junior 1 bedroom, a dining alcove space into a second or third bedroom, lots of flexibility exists with many of the layouts.
Living in the Lincoln Square Neighborhood and at Dorchester Towers
A sign of a good building is when people who already live there never move out and just hop between apartments when they've outgrown their current space, Dorchester Towers is that type of building. I'm always talking to people who've lived in the building for 10, 20, 30+ years living in different apartments along the way. The Lincoln Square neighborhood is so convenient. For dog lovers, you have two major parks just minutes away, for the performance art lovers, you have the world famous Lincoln Center just minutes away. For those who need to hop on a train or bus everyday for work, you have multiple subway lines and bus lines within minutes. Grocery stores, dry cleaners, shopping , restaurants and places to catch a drink are all within just a few blocks of Dorchester Towers. Want to know if any Condos are for sale at the Dorchester Towers at 155 West 68th Street?
Contact us here or call me at (917) 837-8869.