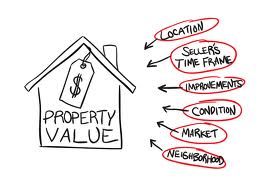 As you know, if you read my blog, I am taking my license out of referral and going from Sales Person to Broker. I have not completed my course yet. Halfway there!
In the meantime we have had an interesting turn of events in my (Eminence, In. very rural) neighborhood.
Late last week my husband and I had a visit from one of our neighbors, this man owns a house two houses down from us, as well as property next to the house two doors down from his. He is the original owner of the property our house, along with 5 others (including his) sit on. We each have minimum 2 acres, with us having 2 lots, therefore having even more land between us and our neighbor to the North. This is estimated info not absolute.
So this neighbor comes down and tells my husband someone is wanting to buy the old Turkey ranch (affectionately called the Eminence Mansion) and are going to put a chicken/duck processing facility on it. They will brood and raise the poultry for 13 weeks then process. They are proud to announce they are the only duck processing facility in Indiana; as well as only one of four in the country. And I know why. Here is a related article with quotes from the owner.
The processing of ducks for Foie Gras is outlawed in California and a controversial subject in most other states. The process they go through (the ducks) to yield to these "farmers" their coveted "foie Gras" is a terrible process and death. The article above will give you the details; what a gavage barn is, how they force feed these ducks for the last two weeks of their lives, etc.....We as neighbors do not want this facility going in across the street from our homes already, but after learning the process that they will be undertaking every 13 weeks (inside this place) makes us not want it even more! If that is even possible.
OK, so now you have heard the emotional side of it.
But what about the economical/environmental side of it? What about the homeowners who live nearby the proposed facility? As I have already stated, I am currently not active therefore really can't make a judgment call with any authority (to bring to the zoning committee). Also I have heard at least one person state that they did not believe it would affect home values (not a neighbor).
Regardless of being active or in referral; it is not too hard for me to draw the conclusion that home prices will be adversely affected ! This facility will be directly across the street from 2 of the houses down from me, given the acreage between us (stated before) you can see it is close to me and my other neighbors. And with a facility such as this you do not have to live across the street to smell it. Unfortunately.
I want to add that this is not a Purdue or Tyson facility; it is a local facility that eventually expects to process around 30,000 poultry a year. In my opinion that only matters to the traffic side of things; not the smell or rodent problems.
I like progress as well as the next guy, but I'm having a hard time understanding why this company is proposing to build this facility next to my house and not a few miles out where it could be in the middle of no homes at all? Oh and did I mention it is .25 miles from a K-12 school?
When I think of this there are so many possibilities that need to be investigated, one being home values and definitely another being health/environmental issues, considering children will be playing across the field from this facility. We are all on Well, even the school. Which leads me to wonder to their disposing of waste water, blood, and so forth.
Now that you have the back story, what is your opinion? Do you think this would affect your home values? Would you want this facility moving in across the street from you?
The Eminence school board is meeting this Thursday night at 7pm. The topic is supposed to be brought up. Also the zoning committee meets on the 22nd at 6:30pm in Martinsville and this application is being introduced that night.
We will see what happens. It is hard for me, as a homeowner, and a Realtor, to imagine this could be good in any way for any homes near the facility! As well as to wonder why they would pick this property when there is so much open acreage around our community.