GREAT NEWS from the Real Estate Board:

July Home Sales Highest Since 2007!!

Straight from the mouth of the man himself...
"Home sales in the province posted their strongest July since 2007," said Mr. Cameron Muir, BCREA Chief Economist. "After six consecutive months of rising consumer demand, it's now clear that BC housing markets are recovering from tighter lending regulations introduced last year," added Muir. Many potential home sellers that have been holding off for market conditions to improve are expected to put their homes on the market to meet the swelling ranks of home buyer demands.
Now this was spoken about the Greater Vancouver area in general, but Citadel Heights in particular has seen a pick up in its specific market place. We have seen an increase in home prices, a decrease in days on market and sellers have been receiving a higher percentage of their asking price. All of this is great news!
Let's take a look at some stats from the Real Estate Board of Greater Vancouver in regards to Citadel Heights specifically. Let's let the statistics do all the talking...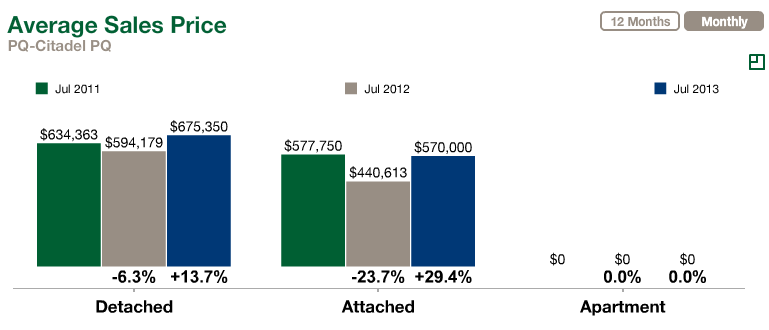 Pay close attention to the increases in Average Sales Price in July 2013 as there have been substantial increases.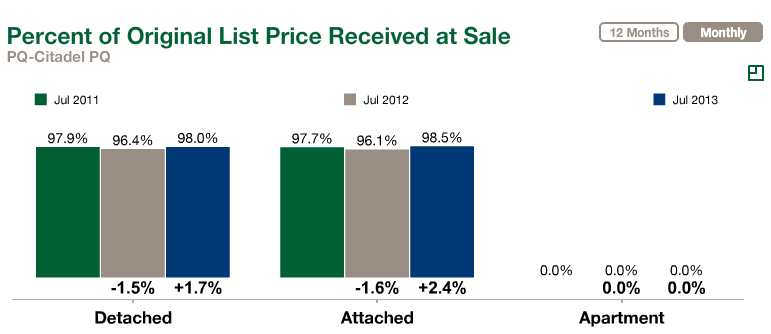 As you can see, Sellers on average are receiving 98% or higher of the original asking price on both Attached and Detached Homes in Citadel Heights. Buyers are putting more and more value on the this beautiful neighbourhood.
Let's talk about the Average Days on Market in Citadel Heights. When the days on market go down, it becomes clear that there is a higher demand for homes of that type and the seller can expect to receive a higher percentage of asking price. More buyers means more demand and more demand means a better market and selling experience for home sellers.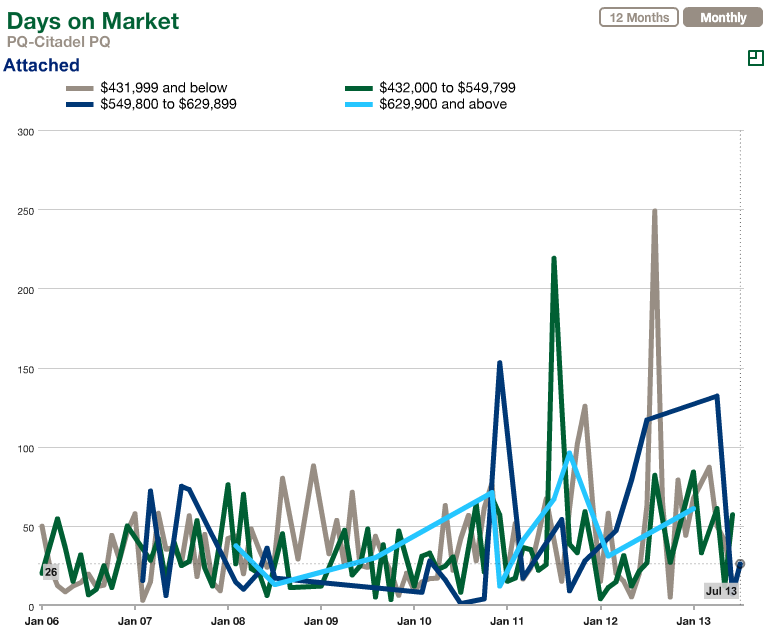 With the Average Sales Price for Attached Homes in Citadel Heights being $570,000, you can see that as of July 13, 2013 the average days on market were 26. Selling an attached home in Citadel Heights, you can expect to sit on the market for less than a month and with the right Real Estate Agent, you could even expect to sell for more in an even shorter amount of time.
With the Average Sales Price for Detached Homes in Citadel Heights being $675,350, you can see that as of July 13, 2013 the average days on market were 27. It's nice to hear that if you fall under that "average price for Citadel Heights" you can also expect an effective home sale in less than a month!
Even better news, if your home falls in between $549,800 to $629,899, the average days on market is a mere 4 days!
Some sellers are even experiencing multiple offers on their homes which is also driving the days on market down and the home prices up.
Don't worry, you can still find great deals in Citadel Heights, but you will need a Real Estate professional to help you find the right home for you at a fair price.
Find Homes For Sale in Citadel Heights
If you are looking to buy a home in Citadel Heights, Port Coquitlam, you can search for homes on our website www.ackermanteam.ca. You can customize your home search to suite your personal needs, wants and price range.
To find out what your home is worth, call your local experts at 778-388-7433 or email us today and book your FREE Current Market Analysis.