This tip will save you 100 minutes in no time!
Some of you might not mind this, but after showing 10-20 homes, I suddenly get a flurry of calls. "What did you think about the place." Sometimes 20 calls because the agent will try a couple of times to reach me.
First of all, I have no memory. So they try to explain that there house was the one on the corner near the lilac bushes. As I noticed the bushes.
So I made a new batch of business cards that say to email me for feedback and to include photos or a link to the property. I put the phone number is a VERY light gray in case they really really need to call me. The card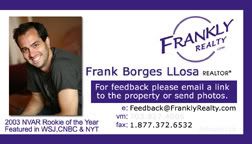 It works great. Fewer calls, more feedback given, everyone is happy.
Frank Borges LL0SA- Virginia Broker/ Owner FranklyRealty.com
Blog.FranklyRealty.com Featured in BusinessWeek, CNBC, WSJ etc.


GROUP: $100 or 100 Minutes