Update 7-1-08 How to buy the v570
I was initially just going to respond to Your Camera Already Has a Wide Angle Lens By Aaron, but then I decided to do more research and make a larger post. Aaron's photos are great and I do agree that most point and shoots have a stitching software, but it isn't that easy. Yes easy if you have somebody showing you how to do it, but not easy out of the gate, and you know how impatient Realtors are... (and stagers)
I personally use a ultra wide angle lens on a SLR (or Digital SLR, DSLR) camera (the big cameras with interchangeable lenses). The set up is about $1,300 (the lens is about $500). Again, you might learn how to use that after reading a book but who has time.
<MONEY SAVING TIP regardless of the camera you buy Forget about all that resolution stuff. Resolution does NOT mean sharpness. Resolution is more about being able to blow up images 20x30inches. For real estate you can get a 1 or 2 Megapixel and be fine. 6 and 10 won't help a lick and if anything slow you down. I have a 3Megapixel that I shoot on 1 Megapixel mode all the time for faster uploading>
Anyhow, there are a couple of cameras out there that are ULTRA wide angle point and shoots. The wider the angle, the more you can get into the shot. The bigger the room looks.
But the winner is!!!!:
Amazon Kodak V570 or v705 (as of 2-23-07) Update 5-18-08: See update at bottom.
Update 12-1-07 These cameras are a b*tch to find now. Some are buying them for as much as $350. You might try Froogle.com CNet product search and Ebay. Ebay is tough, they have SOME buy it now options. I would also look into refurbs. Sometimes Kodak's Outlet has them, but they are sold out today.

My next choice would be:

$230-$250 Canon PowerShot SD800 IS 7.1MP Elph with Image Stabilizer which starts at 28mm (vs the V570 23mm)

$250 Canon PowerShot SD870 IS 7.1MP Elph with Image Stabilizer (same as sd800 but larger screen which can be a drawback for battery use, also controls are better)

So it has image stabilizer which is VERY important for video. (I love the v570 for video since the wide you are, the less it shakes). Don't get the other Canon Elphs that aren't "wide angle."

Or the $171 Olympus Stylus FE-290 7MP with 28mm Wide Angle and Image Stabilizer (note that Olympus has VERY expensive proprietary memory cards).

End 12-1-07 Update
This v570 camera has a 23mm lens with 5 megapixels. The dual lenses will also allow for IN CAMERA stitching. That means no software on your computer. You can also get the slight higher end 7 megapixel model for $15 more (and reviews here)but the megapixels will not do ANYTHING for your photos. But check out the link for the sample photos which show an IN CAMERA panoramic example.(if you camera says panoramic, it is probably the fake kind where they just crop the top and bottom of your camera)
vs
On the left is a typical 39mm lens. On the right is the Kodak 23mm lens. Both are taken from the same spot. Seel the full review here with photos
And it even has built in image distortion correction software.This keeps the walls from bowing. Note that the reviews above aren't great. Don't let that deter you. They were comparing the camera to the other 200 cameras out there and their main comparison was based on everyday use. If they compared every camera for Interior Realtor photos, this would blow everything away.
I think I might have to get this. And yes I would get the cheaper one. The extra resolution is useless for what you would be using it for and the reviews say it actually has a little less "noise" (like high speed grain film).
So go get that camera and let me know how it works. Also here are some last tips for novices when taking photos indoors.
1) Take each photo with and without a flash (no flash photos can look warmer and POP)
2) Take each shot with the blinds open and closed (and step 1)
3) See if your camera has FILL FLASH mode. Sometimes you can hit the flash symbol and see a man with a star over his shoulder, try that. This puts out a less powerful flash so that you can have a nice balance of light and a warmer photos.
4) Get back as far as you can. Sometimes taking the photo without looking through the camera since you are smooching it up against the wall (obviously you might have to take it 5 times to get it right)
(See my article for NVAR Update Magazine on how to take photos)
You stagers out there need this camera too!
Good luck!
Update 5/1/07- I taught a 2 hour class on this. Email me directly for the link to the class notes and audio that you can hear on your ipod.
- Written by Frank Borges LL0SA- Broker FranklyRealty.com (former pro photog, photos at http://www.frankly.com/ )
Check out the rest of my blog for similar useful tips.
DO NOT BUY THE V610, it is NOT as wide angled!!

Update: After searching Google for Realtor v570 I am so convinced that I ordered one of these! Here is a Realtor review and you have to see the review and example INTERIOR PHOTOS here.
UPDATE 8-8-07
Here is what the v570 or v705 can do, the cropped portion is what a regular camera can see.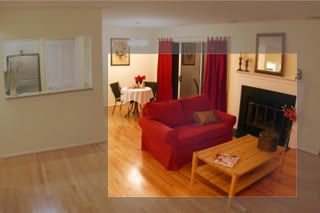 Update 5-2008: How to buy the v570 and the accessories that you need with it.