| | |
| --- | --- |
| If you can't see the newsletter, or would like to view it online, use this link | If you have received this newsletter indirectly and would like to be added to our weekly distribution list, use this link |
 
 

Provided to you Exclusively
By
Chad R. Beard

 
Chad R. Beard
Branch Manager
US Financial Mortgage Corp.
Office: 586-268-5050
Fax: 586-268-5392
Voice Pager: 586-470-0065
E-Mail: Chad@MyUSFMC.com
Website: http://www.myusfmc.com/
 
 
For the week of Feb 25, 2008 --- Vol. 6, Issue 9
Last Week in Review


"AH SUGAR...AH HONEY HONEY" The Archie's made this the top song of 1969, and in fact, it was the only song recorded by a fictional band to ever reach #1. And like a child who has been overloaded on candy, Bonds have been "bouncing off the walls", and appear all "sugared up".
Bond prices and home loan rates swung wildly all of last week. Mortgage Bonds bounced around so dramatically, that home loan rates changed as much as a quarter percent during a single day, on two separate occasions last week. After all the exhausting action, home loan rates worsened by about .25% for the week overall.
Bonds hate inflation because over time, it erodes the purchasing power of the fixed of return they provide. And when consumer inflation was reported at its highest level in years, Bonds were hit hard. But some weak data on both Housing and Manufacturing, along with some sweet comments from the Fed, helped pour some sugar on Bonds as they rallied back and improved.
But wait...just when you thought the party was over, Mr. Excitement, Dallas Fed President and voting FOMC member Richard "Loose Lips" Fisher grabbed the stage. A known inflation hawk, who often blurts market moving comments in an almost uncontrolled fashion, "Loose Lips" lived up to his wild reputation by roiling the Bond market with warnings about inflation and the credit markets.
AND WHILE BONDS MAY BE ACTING SICK FROM TOO MUCH SUGAR, YOU LIKELY KNOW SOMEONE WHO HAS RECENTLY BEEN SHOWING SOME FLU LIKE SYMPTOMS. THIS YEAR'S FLU SEASON IS ONE OF THE WORST EVER. FIND OUT WHY, AND HOW TO BETTER PROTECT YOURSELF IN THIS WEEK'S MORTGAGE MARKET VIEW.
Forecast for the Week

If you like economic reports with the letter "P"...this is your kind of week. PPI, a measure of wholesale inflation will be reported along with PCE, which is the Fed's favored measure of consumer inflation. Additionally, GDP, and the Purchasing Managers Index will give us a look at the strength of the economy. Also in the mix are potential market movers like Durable Goods and Existing Home Sales.

A look at the chart below shows how the Bond has been bouncing off the walls of the 100 and 200-day Moving Averages. It is likely that this pattern will continue amidst all the economic data to be released. And because the range between these two boundaries is so wide, there will probably be more huge price swings ahead.

Chart: Fannie Mae 5.5% Mortgage Bond (Friday Feb 22, 2008)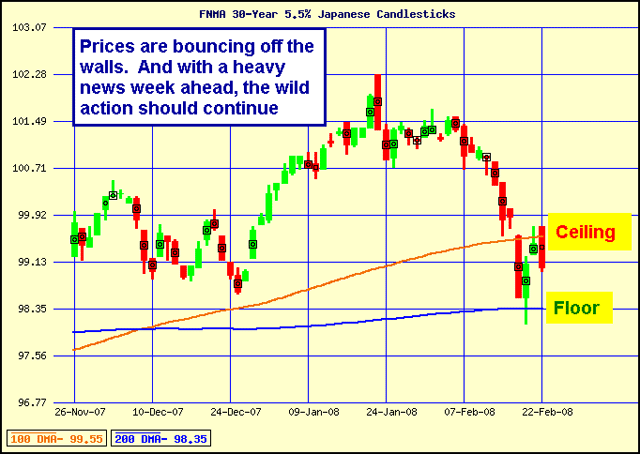 The Mortgage Market View...


NOT TOO LATE TO INOCULATE
This year's flu season started out slow, but is now in full swing with widespread cases reported across the country. And it is far worse than expected...why? It appears that the scientists who try and predict the strains of the Flu that will be most damaging, failed to correctly predict the current version of the Flu that is wreaking havoc in homes and offices around the country. Most of the time, the scientists get it right, but this year's incorrect mixture is the reason that you or someone you know has been ill. Most cases aren't serious, but complications from the flu still claim around 36,000 lives each year in the US alone--and ten times that number worldwide.
How Can You Protect Yourself?
Normally, the simple answer is: get a flu shot. The Center for Disease Control and Prevention (CDC) is reporting that there is still plenty of flu vaccine available...and getting vaccinated now can still better protect you. But, as mentioned, this year's flu shot won't completely protect you because this year's flu vaccine is not a good match for two of the main strains going around. Experts still say it's still worth getting because it fully protects against half of the circulating flu viruses--and provides some level of protection against the rest.
If You Get the Flu, What Should You Do?
The flu is caused by a virus, so antibiotics and penicillin won't help cure it. The best advice is:
Get plenty of rest
Drink lots of liquids
Avoid alcohol and tobacco
Take over-the-counter medicine to help relieve the symptoms
Don't operate heavy machinery
Is Medical Attention Ever Necessary?
If you are 65 years or older, have a chronic medical condition, or are pregnant, you should consult a doctor as soon as you begin to feel the flu symptoms. People that fit these descriptions are considered special risk patients, in which case your doctor may choose to use specific antiviral drugs to help treat the flu. For everyone else, medical attention isn't usually necessary unless you see the following emergency warning signs:
High or prolonged fever
Difficult or irregular breathing
Near-fainting or fainting
Pain or pressure in the chest
Severe or persistent vomiting
Bluish skin tone
Confusion or extreme irritability
Flu symptoms improve only to return with a worse fever or cough
If you or someone you know experiences these symptoms, you should seek medical attention as soon as possible, either by calling your doctor or going to the emergency room.
Stop the Spread!
As a courtesy to others and to prevent spreading the flu, you should stay home from work, school, and even errands when you're sick. And remember... always cover your mouth and nose with a tissue when coughing or sneezing.
To view a report of flu cases in your state or across the country, visit www.weather.com/activities/health/coldandflu and click on the drop down menu or link. You can also learn more about the flu symptoms and prevention at www.cdc.gov/flu.
The Week's Economic Indicator Calendar


Remember, as a general rule, weaker than expected economic data is good for rates, while positive data causes rates to rise.
Economic Calendar for the Week of February 25 - February 29
| | | | | | | | |
| --- | --- | --- | --- | --- | --- | --- | --- |
| Date | ET | Economic Report | For | Estimate | Actual | Prior | Impact |
| Mon. February 25 | 10:00 | Existing Home Sales | Jan | 4.80M |   | 4.89M | Moderate |
| Tue. February 26 | 08:30 | Core Producer Price Index (PPI) | Jan | 0.2% |   | 0.2% | Moderate |
| Tue. February 26 | 08:30 | Producer Price Index (PPI) | Jan | 0.4% |   | -0.1% | Moderate |
| Tue. February 26 | 10:00 | Consumer Confidence | Feb | 83.0 |   | 87.9 | Moderate |
| Wed. February 27 | 08:30 | Durable Goods Orders | Jan | -3.5% |   | 5.2% | Moderate |
| Wed. February 27 | 10:00 | New Home Sales | Jan | 600K |   | 640K | Moderate |
| Wed. February 27 | 10:30 | Crude Inventories | 2/23 | NA |   | 4204K | Moderate |
| Thu. February 28 | 08:30 | Jobless Claims (Initial) | 2/23 | 355K |   | 349K | Moderate |
| Thu. February 28 | 08:30 | GDP Chain Deflator | Q4 | 2.6% |   | 2.6% | HIGH |
| Thu. February 28 | 08:30 | Gross Domestic Product (GDP) | Q4 | 0.7% |   | 0.6% | Moderate |
| Fri. February 29 | 08:30 | Personal Income | Jan | 0.2% |   | 0.5% | Moderate |
| Fri. February 29 | 08:30 | Personal Spending | Jan | 0.2% |   | 0.2% | Moderate |
| Fri. February 29 | 08:30 | Personal Consumption Expenditures and Core PCE | Jan | 0.2% |   | 0.2% | HIGH |
| Fri. February 29 | 08:30 | Personal Consumption Expenditures and Core PCE | YOY | NA |   | 2.2% | HIGH |
| Fri. February 29 | 09:45 | Chicago PMI | Feb | 50.5 |   | 51.5 | HIGH |
| Fri. February 29 | 10:00 | Consumer Sentiment Index (UoM) | Feb | 70.0 |   | 69.6 | Moderate |

The material contained in this newsletter has been prepared by an independent third-party provider. The content is provided for use by real estate, financial services and other professionals only and is not intended for consumer distribution. The material provided is for informational and educational purposes only and should not be construed as investment and/or mortgage advice. Although the material is deemed to be accurate and reliable, there is no guarantee it is not without errors.
As your trusted advisor, I am sending you the MMG WEEKLY because I am committed to keeping you updated on the economic events that impact interest rates and how they may affect you.
In the unlikely event that you no longer wish to receive these valuable market updates, please USE THIS LINK or email: Chad@MyUSFMC.com
If you prefer to send your removal request by mail the address is:
Chad R. Beard
31201 Chicago Road So.
Suite C201
Warren, MI 48093

Mortgage Market Guide, LLC is the copyright owner or licensee of the content and/or information in this email, unless otherwise indicated.   Mortgage Market Guide, LLC does not grant to you a license to any content, features or materials in this email.   You may not distribute, download, or save a copy of any of the content or screens except as otherwise provided in our Terms and Conditions of Membership, for any purpose.