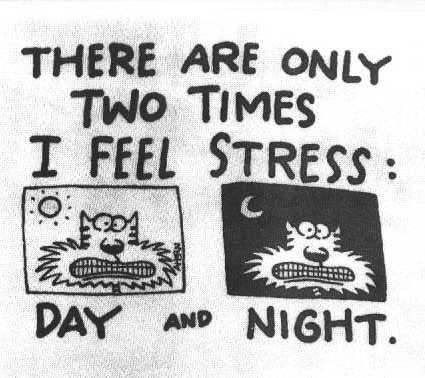 Ah, how true it is. We all have stress at different times in our lives and in our professions, but the ways we deal with it vary from person to person. Some deal with it with what I call the short fuse, meaning it doesn't take much to set them off. Others the long fuse which are the people that let their stress build up over a period of time and then go off. Then there is that person that like me (for the most part) use the stress to motivate them to excel. Don't get me wrong, I started out as a short fuse and then migrated to a long fuse and now I am fuse-less (again, for the most part).
I have found that going off on someone because you are stressed about something never fixes the reason you are stressed in the first place. Sure, it may offer some temporary satisfaction that you vented your woes, but in the end you still have the situation that is causing the stress. Channeling your stress to excel and resolve the stressful situation always works best for you and for those around you. Remember sharing your stress with someone in a negative way can lead to adding a stressful situation to that person who may be a short or long fuse person. If you set them off, it may just compound your stress as you have now alienated another person.
So tonight before you hit the sack, make a commitment to divert your stress into a positive way of accomplishing the task at hand and worry less about the troubles that got you there. You just may find out it wasn't so bad after all. Remember, trying times are only temporary and this too shall pass.
If you can change the situation - Don't stress
If you can't change situation - Don't stress