I attended a class yesterday, part of a year long commitment, and the topic of the day was Fun at work. Some of you may be familiar with the Seattle Pikes Fish Market. Charter House learning has taken the Pike's Fish Market and turned it into a program called FISH. This program teaches managers/owners how to incorporate fun at the work place and how to make someones day. This program is also has developed a whole roll out and kick off meeting with work books and everything to use within your company. We did this at our company about 2 years ago and it was great. My class yesterday just reinforced to me importance of "having fun" at work really is-especially in the market.
I highly recommend this progam to everyone-as a broker there is nothing better to help boost the moral in the office. Check this link for all the info FISH PROGRAM.
Anyway, I just made a long story out of a way to have fun at work.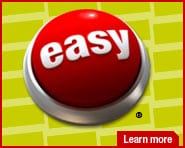 The greatest invention is the Staples "easy button". This $5 piece of plastic has really help our office and myself have more fun at work. I think every realtor needs one to help them get through this market. "THAT WAS EASY!!!"