With 28 straight months of strong home sales, it's no secret that the Houston real estate is on fire. In fact, the manic pace of home buying drove months of inventory down to 3.2 months compared to 4.7 months at this time last year.

Some of the hottest properties are homes located within Houston's inner Loop. Houston Heights, Rice Military, and River Oaks neighborhoods are all driving the city's home sales. The downside however, is that inner Loop homes are also appreciating in a rapid pace.
Source: Paige Martin's Blog - Two New Cottage Grove Houston Maps

Fortunately, there are pockets of subdivisions that still have affordable homes. One great example is Cottage Grove - a neighborhood of over 500 homes known for its vintage cottages, new construction homes, townhomes, and apartment complexes.

Cottage Grove is a quiet neighborhood with a very affordable range of properties. Cottage Grove homes for sale are some of the few inner Loop properties under $200,000. Currently, Cottage Grove homes' neighborhood value range is at $81,000 - $264,000.

The trick though, is in locating the peaceful neighborhood. Here are two maps that could help:
Cottage Grove Houston Neighborhood Maps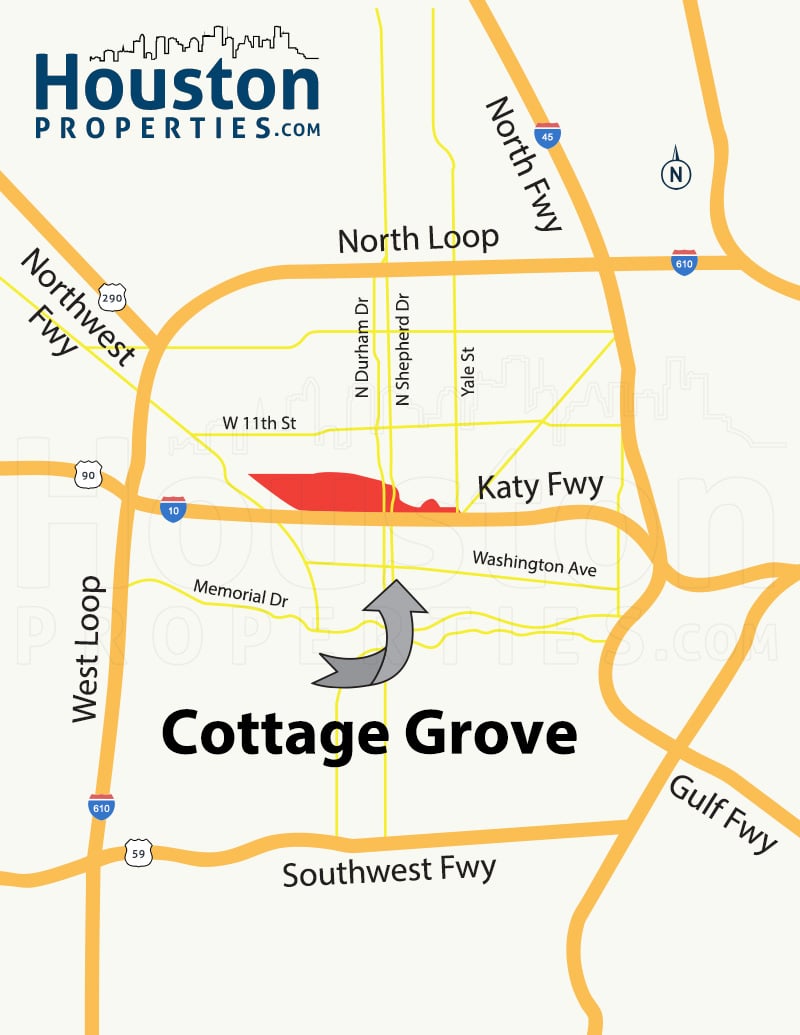 Found within Houston's Inner Loop and near Memorial Park, Cottage Grove is about 10-15 minutes away from Downtown Houston and Galleria.

Located near major Houston freeways, Cottage Grove is between Shepherd Drive and Westcott Avenue, with Katy Freeway running through the neighborhood.

Cottage Grove's central Houston's Inner Loop location gives its residents easy access to Downtown Houston, Montrose, Galleria and Museum District.

Cottage Grove is one of the last Inner Loop neighborhoods that went through a community-wide residential development. In 2005, developers started buying vacant lots and building new construction single-family homes and townhomes.

From $20 in 2005, Cottage Grove homes for sale now have a $129 per square foot median price. With a median appraised price of $133,870, Cottage Grove homes are still some of the most affordable properties within Houston's Inner Loop.

Neighborhoods near Cottage Grove include Rice Military, Camp Logan, Houston Heights, Timbergrove, Midtown and River Oaks.
(View All Cottage Grove Houston Homes For Sale)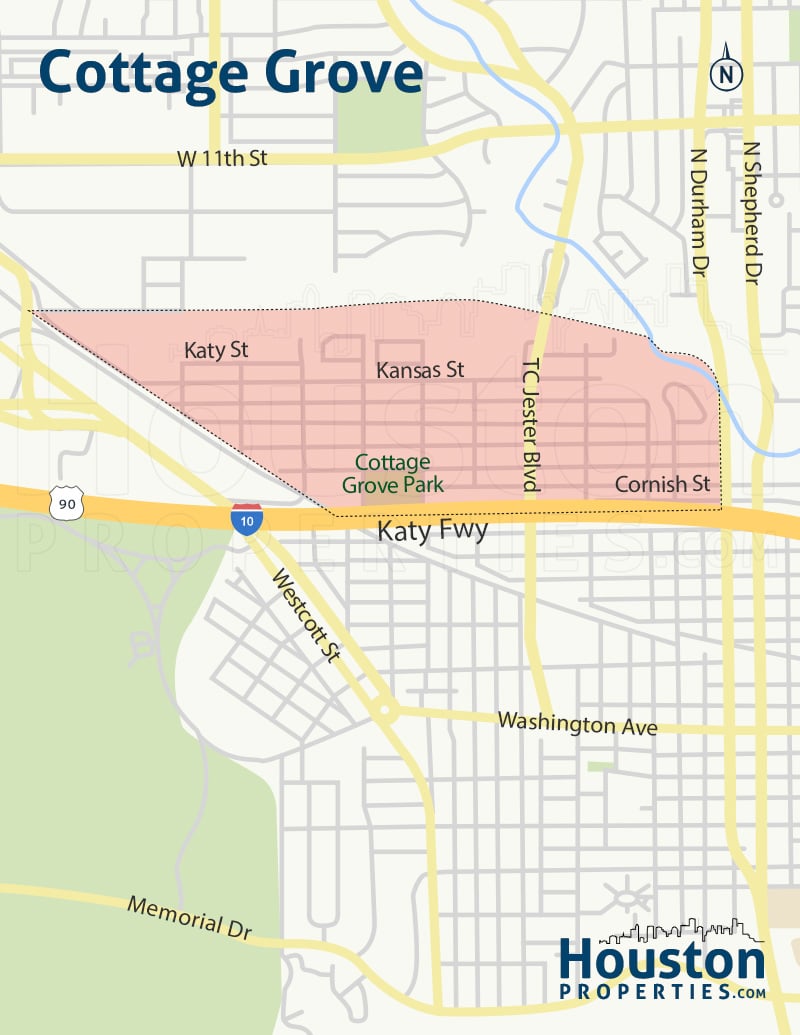 About Paige Martin: Top-ranked Houston realtor
As featured on Fox News in the Morning, the Houston Chronicle, and Houston Magazine, Paige Martin, a consistent Top Producing Broker-Associate, is ranked amongst the very top Keller Williams agents in the Houston area. Paige was also named the #1 Ranked Individual Agent in the Keller Williams Memorial Office for 2012, 2011 and 2010.

A Houston-area native, Paige is an experienced, successful partner in any residential real estate transaction. Armed with a local perspective of the city & a deep knowledge of Houston real estate market, her skills have marked her as one of the most sought-after agents in Houston.

In addition, over 75 of her prior clients have publicly endorsed and recommended her via LinkedIn, YouTube Videos and HAR. See one of them below.
There is little more to say other than Paige was/is Fantastic! We looked for houses for almost a year and Paige was nothing but patient...showing us house after house after house. Paige was able to get an accurate feel for our like/desires and dislikes...and this allowed us to use our time very efficiently as she did a great job screening the houses we picked from HAR.com and then finding some that we missed. Overall we could not have dreamed of a better experience. We were fortunate to find Houston's best realtor!