The Goldener Hirsch Inn was named the "Best Ski Boutique Hotel" in the United States at the World Ski Awards held on Saturday evening, November 16. Move over Telluride, Beaver Creek, and Jackson Hole, and make room for Deer Valley's most premiere boutique Inn from the U.S.!
Kelley Davidson, General Manager for Goldener Hirsch, said the Inn is honored to be named Best Ski Boutique Hotel in the United States.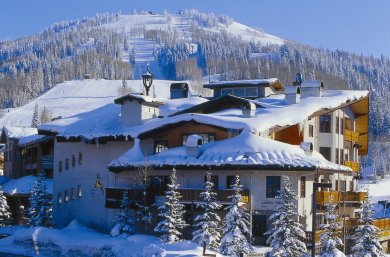 Goldener Hirsch was crowned this past weekend at a three-day awards ceremony in Kitzbühel, Austria. The inn was one of six boutique hotels to receive an award at the World Ski Awards this year. Over one million votes from across the world were cast this year, and the winners were announced at the World Ski awards in Austria. The polls were open for a two-month period.
Interestingly, Kitzbühel, Austria is located approximately 50 miles away from the Goldener Hirsch's namesake—the Hotel Goldener Hirsch in Salzburg, Austria.
The Goldener Hirsch Inn joined the winners in four other categories, such as Best Ski Resort, Best Ski Chalet, Best Ski Hotel, and Best Ski Boutique Hotel.
Nestled in the Silver Lake area of Deer Valley near Mont Cervin, Goldener Hirsch resembles a cozy little Swiss chalet, and at first glance, you can see why it was awarded for the best boutique hotel in the U.S.
Aside from clearing a place in the award case for a new trophy, Goldener Hirsch has been doing some remodeling. This boutique inn from Deer Valley now offers luxurious travertine showers and floors, hand-milled wooden cabinets, granite countertops, and sunken bathtubs. With beautifully hand-painted, hand-carved beds, clean linens, feather bed toppers, and cozy down comforters, you'll feel like you've travelled all the way to Austria for a vacation.
All rooms include a mini-bar, hair dryer, iron, ironing board, humidifier, iHome clock/radio, cable TV, and DVD players. Room rates include a complimentary winter breakfast buffet (European style), and a complimentary summer Continental breakfast as well.
The world-class restaurant at Goldener Hirsch offers a delicious contemporary Alpine cuisine with a seasonal American spin.
Other finalists in the Boutique Hotel category included the Washington School Inn from Park City and the Rusty Parrot in Jackson, Wyoming