Little River South Carolina is the oldest -- and one of the most unique -- towns along the greater Grand Strand.
Known for its fresh seafood, fishing charters, annual blue crab festival, and historic centuries-old live oak trees, it is one of the last communities on the Grand Strand where a slower pace of life still exists.
Little River is about 20 miles to the north of the hustle and bustle of Myrtle Beach, so residents and visitors alike share more peaceful days in this quaint fishing village.
Yet Little River is just a short drive to all the Grand Strand's famous attractions, signature golf courses, unique variety shows, shopping outlets and world-class entertainment.
And with two Las-Vegas-style casino gambling boats now docked in Little River, locals and tourists flock to the waterfront twice a day, every day, for world-class casino gambling excursions into international waters where gambling is legal.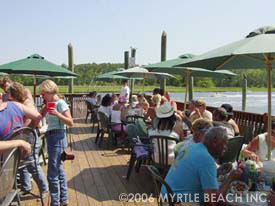 Little River is also home to generations of charter and commercial fishermen and shrimpers. Here you can choose between short party-boat fishing trips near the shore, or spend an entire day fishing in the deep waters of the Gulf Stream.
For those who love to play in the waterway instead of fish, there are jet ski rentals at the waterfront as well as dock space and pontoon boat rentals at Cricket Cove and Coquina marinas.
It's no secret that real estate in little river is is rising in value rapidly, since almost every one who visits, wants to move here or invest here.
There's a quality of life that residents cherish and visitors admire in our beautiful town of Little River on the north end of the Grand Strand.