The Record Searchlight Presents - Eat Desserts First
Get Tickets at One SAFE Place Business Office & Client Service Center, Cornerstone Bank, Five Star Bank, American West Bank, Boheme Spa, Mary's Pizza Shack, O2 Staffing, Cold Stone Creamery, Sweet Spot, Sandy's Specialties, Record Searchlight, Redding.com
This year the Record Searchlight has selected One SAFE Place as their non-profit partner for their 7th Annual Eat Desserts First Event.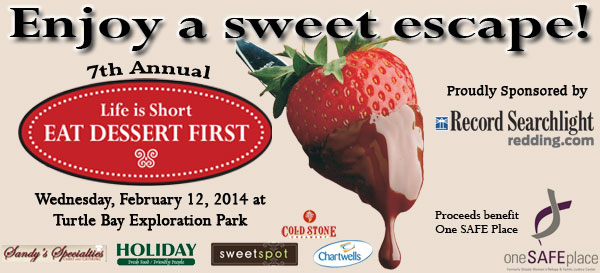 This chocolate indulgence event typically sells out each year and features hundreds of desserts from local restaurants, caterers, and bakers. "From luscious cheesecake to bread puddings, mini caramel apple pies to tiramisu. "There will be an amazing assortment," said Michelle Martin Streeby, Record Searchlight's marketing director.
Tickets are only $20 each and proceeds from this family friendly event will benefit victims of domestic violence, sexual assault, child abuse, and elder abuse in our community through the works of One SAFE Place.
In an effort to raise the much needed funds to operate the center, One SAFE Place will be hosting a dutch raffle and prize wheel.
Prizes include:
Boheme Spa Package for four with First Class Limousine Service to and from the spa.
BBQ Boot Camp with Mike Dill. This prize includes BBQ lessons for up to eight people, new BBQ, and meat from Prather Ranch.
A Year Worth of Dates with dinners, entertainment and activities for you and you special someone for a year.
And many, many more opportunities to leave the event with more then a full tummy.