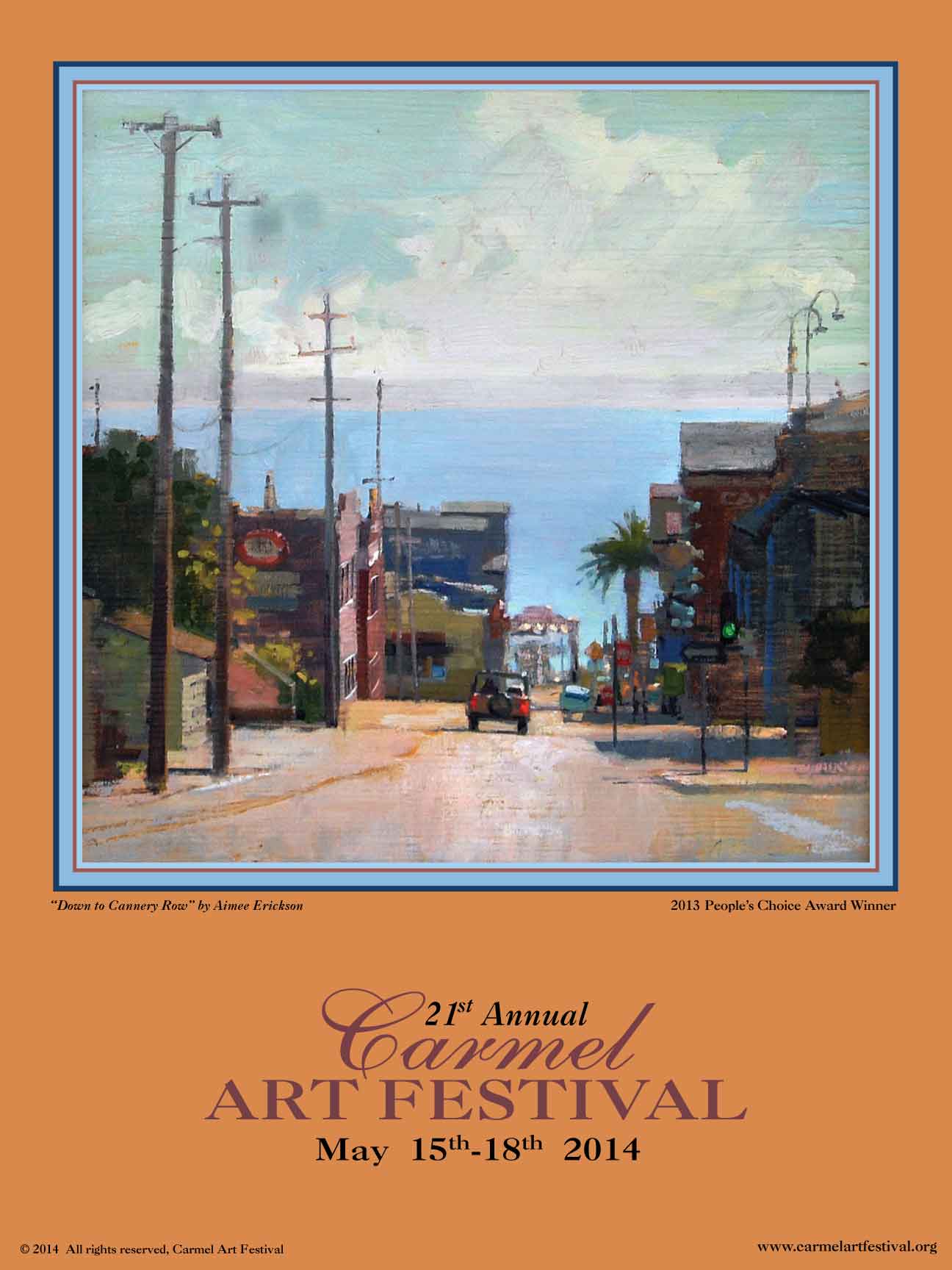 The Carmel Art Festival here in Carmel-by-the-Sea is held every year outdoors at Devendorf Park. The City also closes down adjacent Mission Street between Ocean Avenue and 6th for the event.
Banners are displayed up and down Ocean Avenue for a couple of weeks before the event, touting the Carmel Art Festival.
All of this, of course, is City property and it charges vendors for this privilege. BY THE HOUR.
Our event starts on Thursday, May 15, 2014 when the tent is put up on Mission Street and the information tent and Sculptures arrive for display at Devendorf Park. It is effectively done by Sunday, May 18, 2014.
The City of Carmel-by-the-Sea also charges for:
1. Putting up "no parking" signage before and during the event.
2. Live music held by the event. (Yes, they charge by the hour for this.)
3. Clean-up.
But the Carmel Art Festival is not a "normal" event, it is:
1. A non-profit.
2. In its 21st season, and we are granted permission to hold it within the city in "perpetuity".
3. It portrays the city's image of an "artist colony".
4. Because art is auctioned and sold at the event, sales tax is collected, and quite a bit.
5. It brings collectors and other attendees to the city who spend money in hotels, restaurants and shops.
6. The Carmel Art Festival's charity is towards youth art, to promote the next generation of artists here in the Monterey Peninsula.
So last night we, the Carmel Art Festival board, were on the agenda of the February 4, 2014 city council meeting to have them "forgive" about $12,000 of fees they would normally charge vendors of such events.
It should be noted that the Carmel Art Festival pays for all its own expenses including setting up the venue (tent, security, insurance, advertising). It also pays out some pretty hefty PRIZES.
In all, 60 plein air artists are juried into the Carmel Art Festival each year, who paint TWO PAINTINGS (they paint them starting with a blank canvas on Thursday and Friday) which are entered into the competition and which are auctioned off on Saturday, May 17, 2014. The artists receive HALF of the proceeds from the auction. Art is displayed on Mission Street starting Friday night. On Sunday, artists have the opportunity to sell other paintings that they painted around the Monterey Peninsula during that weekend. It is not unknown for artists to sell as many as 5 or 6 paintings that weekend!
Artists also participate in a two-hour QUICK DRAW on Sunday, May 18, 2014 which is also auctioned off at NOON in Devendorf Park.
The art festival includes LIVE MUSIC, sculpture viewing and demonstrations, Kids-Make-Art-Day and other fun events held in Devendorf Park. Posters, totes, hats and t-shirts of current and past events can be purchased.
Another fun thing about the Carmel Art Festival? You can watch some of the best plein air painters create their art. Where do they paint? All over the Monterey Peninsula. And when you successfully bid or purchase a painting, you will actually meet the artist and can have your photo taken with him/her. BUYERS/COLLECTORS LOVE THIS.
Yes, the Carmel-by-the-Sea City Council "forgave" the $12,000 last night. Mission accomplished.
Event: 21st Carmel Art Festival
When: May 15-18, 2014
Where: Carmel-by-the-Sea, CA
For more information: www.CarmelArtFestivalCalifornia.com