Jacksonville Florida Real Estate Market Report
Single Family homes (attached & detached)
Active Listings: 4285         Active Listings: 3520
Sold: 782                   Sold: 689
Months Inventory: 5.47         Months Inventory: 5.11
Average Price: 490,438          Average Price: 499,230
I decided to start doing this market report more until the middle of the month, and I may even push it back to closer of the month next month. The reason is, because I noticed a discrepancy in the numbers. Yes, it seems the listing companies are not changing the status in the MLS to a closed sale in a timely fashion, sometimes not even until a week or more past closing. That has a huge affect when the homes close towards the end of the month, of the month I'm gathering stat information for. So, I decided to test it and my tests proved it. Very discouraging and a little embarrassing to admit that agents are dropping the ball, but I believe in transparency. No, I am not one of those agents, you should have known that. :) Seriously, the rule is within 24-48 hours and I have missed that before, but only once or twice and only by a day or so. I now use a checklist, which keeps me on track, so I don't forget stuff like that. Let's get into the juicy stuff though, let's talk about some numbers.
We had an increase in the number of homes on the market from January, but also saw the number of sold homes in Jacksonville go up as well. That brought our months inventory at around 5.47 months. Still a balanced market. The trend is continuing where the inventory levels are higher these past few months versus their counterpart months last year. Interesting to see how that pans out as spring is right around the corner. We should see activity increase as March is the start of the busy real estate season.
Almost forgot, the median sales price in Jacksonville for February 2013 was 117,500 and in February 2014 it was 114,225. That's a difference of -2.8%. I'll be watching that closely in the next couple of months.
Jacksonville Florida Real Estate Market Report February 2014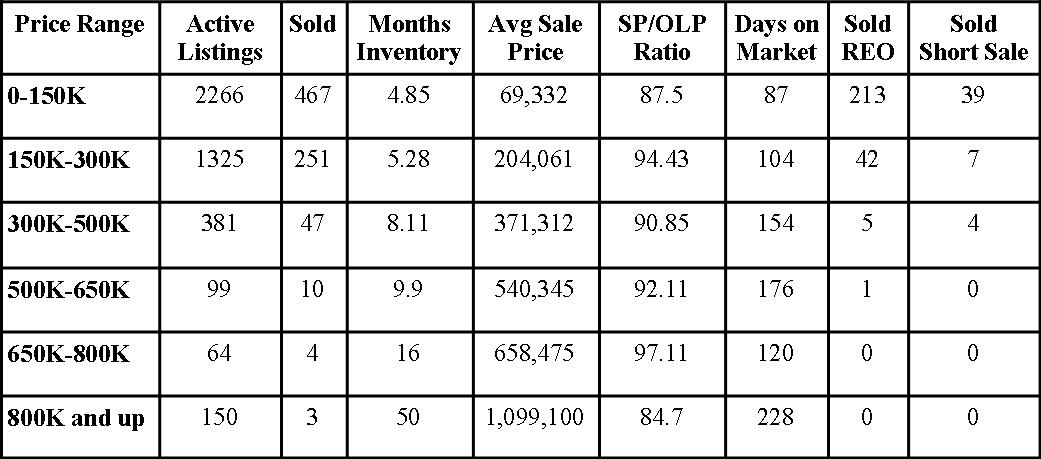 And now for a Blast in the Past…………..
Jacksonville Florida Real Estate Market Report February 2013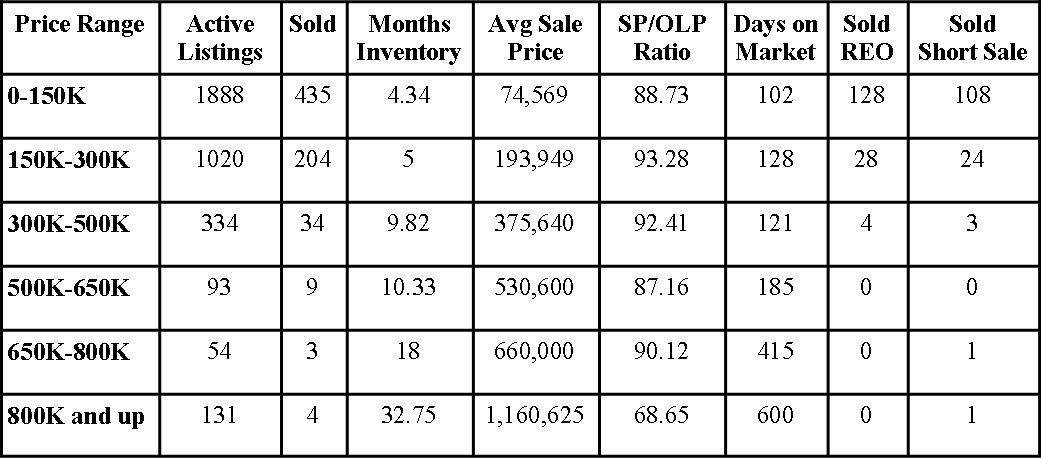 Active Listings– The amount of active listings in the month reported
Sold– The amount of sold listings that closed in the reported month.
Months Inventory– How many months it would take to sell the current inventory based on the sold amount.
Avg Sale Price– Average sale price of the sold houses in the reported month.
SP/OLP Ratio– Sales price to Original List Price, this is the percentage showing the difference of what the house was originally listed for and what it sold for.
Days on the Market– The length of time it took the house to get under contract from list date. Sold REO– How many homes sold that were foreclosures (REO=Real Estate Owned).
Sold Short Sales– How many homes sold, that were short sales  
Want to see what the real estate market looks like in your neighborhood?
FREE Home Value Report complete with current sales in the neighborhood and current homes available for sale.
If you want to search for homes in Jacksonville, check out this link: Search for homes for sale in Jacksonville Florida
Every neighborhood and house is different, want to know what these numbers mean to you when selling your Jacksonville Florida Home? Call me at 904-910-3516 and find out!
Originally Posted at: Northeast Florida Life