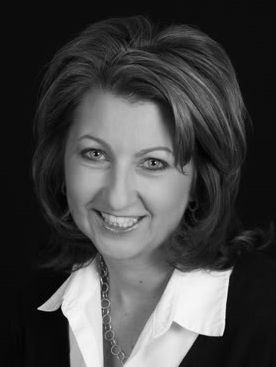 Undoubtedly, my largest pet peeve is the use of templates in direct mail marketing. Templates are a one-size fits all approach and they don't do anything to build a unique brand. Using template postcards that use generic photos can rob you of your "street cred" and damage your brand.
What do I mean by this? In your community, part of your job as a Realtor is to convince people that you're the area expert. If you are putting your contact information and logo into template postcards, are those images really reflecting the area you serve? Are the houses the same style found in your area? If you have a scenic view, is it one that's actually in your part of the country? If you're marketing a golf course community, make sure any photos you use are of THAT GOLF COURSE, and not a stock image you pulled online. A lot of Realtors may not think that this is important, but it's critical. The wrong images look canned and fake, which detracts from your credibility as an area expert or member of the community.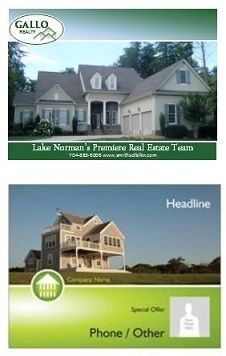 On the right are two examples of homes used in real estate marketing. The top one is from a community called The Farms, in the Lake Norman area outside of Charlotte, NC. The bottom photo is one typically found on a generic template designed to serve any Realtor -- only it probably only serves 1% or less of you! How many of you can say you have homes and topography in your immediate market that look like the one below? Probably not many more of you have listings that look like the example above either...and, that's the point! Your listings need to look like your listings, period. Not my area. Not an area depicted in a stock photo.
You don't have to be a professional photographer to snap great photos. The above photo was actually taken with my phone's camera (Nokia Lumia 1020 has the best camera phone in my opinion). If you aren't satisfied with the quality of your images, consider contracting with a local photographer who can provide you with some high resolution photos of areas in your market.
A final option is using stock photography, but using it appropriately. Not all stock images are bad. In fact, I will often use stock images I purchase online for clients. The key is to search for the right image that reflects the exact look and feel appropriate to your market. You can find images of beach cottages, classic colonials, craftsman homes, etc. Just don't make the mistake of choosing a style home that's clearly not in your market. A good site to use is 123rf.com, where you can purchase credits and buy the rights to download high resolution images. They also have great images you can use to design your own logo or enhance your website graphics. If you think there are a bunch of images you could use, it might be worth it to purchase the monthly membership for under $100 and download 5 images a day. Just make sure you remember to log in each day to download your 5 images, otherwise you will lose them!
On a final note, I've heard from people who say that they prefer template postcards because they assume alternatives cost too much. No. No. No! I can assure you that companies selling those generic templates are not cheaper, they only make you look cheap! Feel free to contact me if you're in this boat and want ideas for doing better direct mail without breaking the bank!
Kary Gregor, Message in a Mailbox
Visit us on Facebook for more discussions and tips!
https://www.facebook.com/MessageInAMailbox