Keller Williams Red Day 2014 in Springfield, MO
What is RED Day?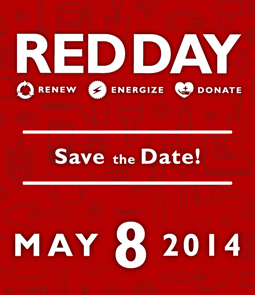 RED Day (Renew, Energize and Donate)
WHAT IS RED DAY?
RED Day (Renew, Energize and Donate) is an initiative dedicated to celebrating Keller Williams Realty's year-round commitment to improving our local communities.  Each year, on the second Thursday in May, tens of thousands of associates from across the United States and Canada participate in a wide range of projects, devoting their time to renewing and energizing aspects of the neighborhoods in which they serve.  
RED Day initiatives run the gamut: From rebuilding homes, refurbishing local parks, giving to local food shelters, hosting blood drives, beautifying beaches and so much more. Projects are chosen by each individual market center based on a need they see within its community.
Recognizing her leadership in guiding the culture of our company, RED Day is held in honor of Mo Anderson, Vice Chairman of the Board, Keller Williams Realty.  (Read more about Mo here)
This event is an entrenched part of Keller Williams Realty's culture and displays the extraordinary effect a company can have when individuals come together to work as a team for the greater good of everyone. As Mark Ozman, associate with the Indianapolis/Carmel Market Center, wrote:
"RED Day isn't about cleaning up a park. It is a one-day expression of what happens 24/7 in the Keller Williams culture. It is seeing a need, discovering who can meet that need and then getting it done."
In our local Keller Williams office in Springfield, MO, we are excited to be doing a home makeover for a truly deserving woman.  She has fostered over 200 children over 14 years!  She is truly making a difference in the lives of children.  The local Springfield KW office has approximately 70 volunteers and over $4,000 that will be dedicated to blessing this angel on May 8th.  This does not count the donations of items such as flooring to furnishings that have been donated!  We have partnered with a local foster ageny, Cherish Kids, who have sent volunteers out early to "declutter" the home and get ready for the big day.  We will be adding new landscaping, new flooring throughout home, fresh paint throughout home, deep kitchen clean and reorganizing the cabinets, and providing new furnishings.  Our team is so excited to be blessing her and the children she helps.  We also have sponsors providing, breakfast, lunch and dinner throughout the day to keep our volunteers nourished and energized.
Stay tuned for after pictures!!  We can't wait to share.
Keller Williams Red Day 2014 in Springfield, MO