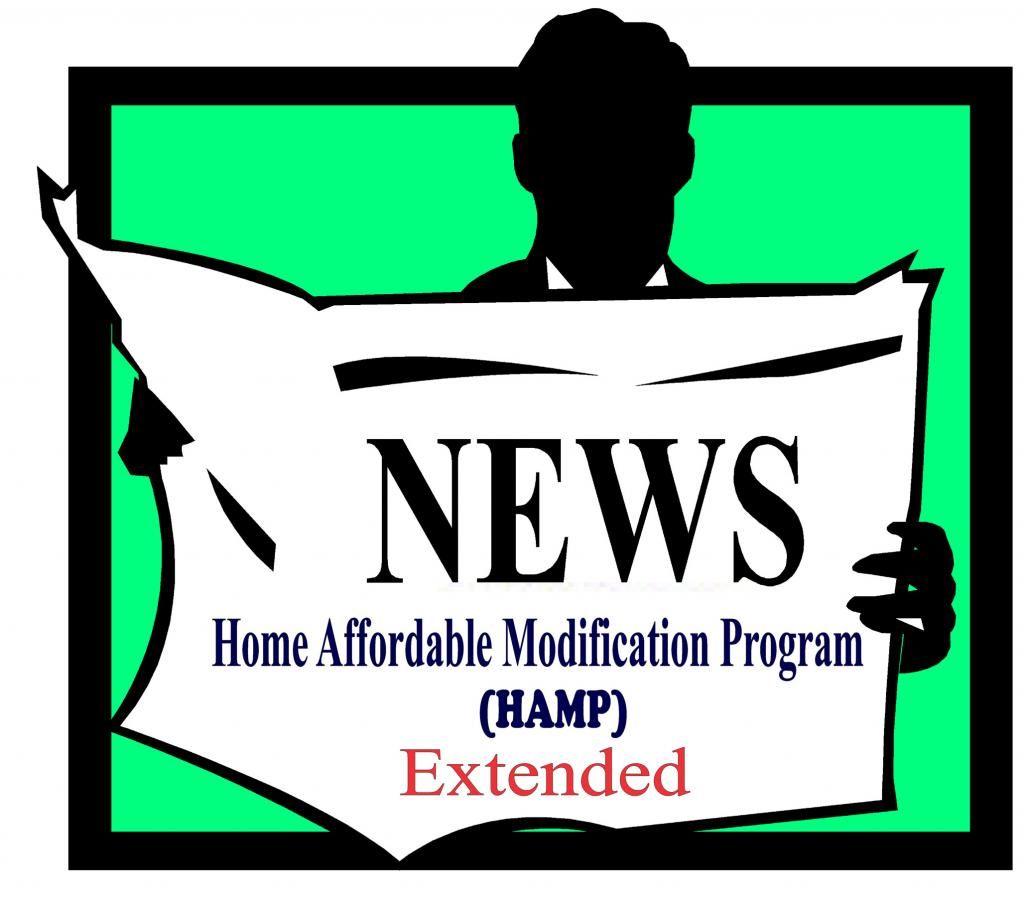 One of the few Mortgage Programs implemented during the Obama Administration which has had some success is the  Home Affordable Modification Program (HAMP).  The HAMP program was initially unveiled in 2009, and was set to expire at the end of last year, however, the Federal Housing Finance Agency (FHFA) and the U.S. Treasury Department extended the HAMP program until the end of this year, December 31, 2014.  With the HAMP program set to expire in about 6 months, the Federal Housing Finance Agency (FHFA) and the U.S. Treasury Department have agreed to once again Extended The Home Affordable Modification Program (HAMP) To December 2016.  This is a two year extension in hopes of the Housing and Job Markets improving during that time.
The HAMP program is meant to help struggling Homeowners to refinance into a lower rate in order for them to be able to afford their mortgage payments and stay in their home.  Under the HAMP program Lenders rework the Homeowner's Mortgage so their Debt-To-Income (DTI) Ratios are no higher than 31%, by doing one or more of the following:
Reducing the interest rate to as low as 2%.

Extend the Mortgage Term Period to 40 years.

Deffer a portion of the Principal Loan Balance into a no interest Balloon Loan which is not due until the property is sold or present mortgage paid off.
Lenders who agree to participate in the HAMP program receive an incentive fee from Fannie Mae and Freddie Mac to do so.  The latest available figures, April 30, 2014, show the HAMP program has helped 1,364,674 Homeowners to permanently modify their mortgage.  While 1,364,674 Homeowners may sound like a lot, it is not when compared with the number of Homeowners who are in trouble on their mortgage and do not qualify for the HAMP program.  So while the HAMP program has had some success, it has been limited success.  However, for 1,364,674 Homeowners the HAMP program was the difference between them losing their home or being able to keep it.
Hopefully with the Home Affordable Modification Program (HAMP) Extended To December 2016, several more Homeowners will be able to avoid foreclosure, and stay in their homes.  For more information on the HAMP program visit MakingHomeAffordable.gov or call (888) 995-4673.
**********************************************************************************************
 Info about the author:
George Souto NMLS# 65149 is a Loan Originator who can assist you with all your #FHA, #CHFA, and #Conventional #mortgage needs in Connecticut. George resides in Middlesex County which includes #Middletown, #Middlefield, #Durham, #Cromwell, #Portland, #Higganum, #Haddam, #East Haddam, #Moodus, #Chester, #Deep River, and #Essex. George can be contacted at (860) 573-1308 or gsouto@mccuemortgage.com