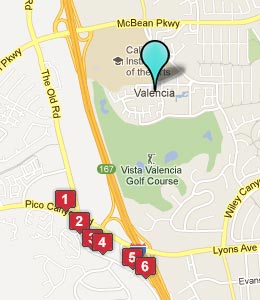 There are 88 available homes for sale in Valencia California, the real estate market is booming in this area. This is city is famous for being one of the safest in the US, plus high rated schools.
Only 4 homes with 2 bedrooms are in the market for sale, with prices staring at $319,900 going all the way to $464,800.
3 Bedrooms : only 24 listings on the market starting at $ 399,500 going up to $899,000 with prices in between those two.
4 Bedrooms: 34 listings Staring price $ 398,328 with prices in between and going all the way to $3,300,000
5 Bedrooms: 20 availabile listings with starting price at $395,000 to $3,100,000
6 Bedrooms: Only one customed made home only listed at $ 3,750,000  with 6 bedrooms, two offices and a gym, 9 baths, 4 freplaces, a pergola, basket ball court, pool and spa.  3 Car garages, solar panels, 2 koi ponds, custom harwood and travertine floorings. Guest house with  private entry.
Amusement Parks
Six Flags Magic Mountain within  are Colossus, X2, Hurricae Harbor, Scream, and Goliath.
Schools
Valencia has twelve primary and secondary schools. One of the Highest rated is Bridgeport Elementart School which is rated 10. Valencia Schools find the one you belong to.
Churches
 List of Churches in Valencia Area
Real Estate:
Available Homes For Sale       Available Condos For Sale   Rental Properties
Alberto Pacheco  818 481 9211   www.granadahills,kwrealty.com      My Email
Keller Williams Porter Ranch CA