As of today July 23, 2014 there are 39 Kauai Condos that are available under $250,000 on Kauai. Here are the projects available:
*VR=vacation rentable, LT=Long term rental or permanent living, (x)=units available
(4) Banyan Harbor , Lihue. VR, LT – $225-230K
(2) Halelani Village, Lihue.  LT – $199-219K
(1) Hookena at Puhi, Lihue. LT – $249K
(12) Islander on the Beach, Kapaa. VR, LT – $149-197K
(6) Kauai Beach Resort, Lihue. VR, LT – $73-76K
(1) Kauai Beach Villas, Lihue. VR, LT – $249K
(4) Kauai Kailani, Kapaa. VR, LT – $226-236K
(3) Kawaihau Sports Villa, Kapaa. LT – $174-239K
(6) Plantation Hale, Kapaa. VR, LT – $164-230K
Purchasing a Kauai Condo is a great investment especially if visits are often or to live on Kauai permanently. Notice that not all Condos on Kauai are able to be vacation rented. Most condos right next to the ocean are vacation rentable. These also tend to have higher monthly maintenance fees and don't allow pets.
If you are looking for a vacation rental the Kauai Kailani's just got totally remodeled. These units used to be timeshare and now are converted to condos. These units are literally right on the beach and come with brand new furniture. While most units had already been reserved in advanced some units recently became available.
Because this project is new maintenance fees are at $525.06 which is great for a vacation rental property. There are two pools on this project and are located right next to Waipouli beach resort, restaurants, and shops. Click here for more on the available Kauai Kailani Condo units. MLS#'s 274754, 274749, 273579, 273593.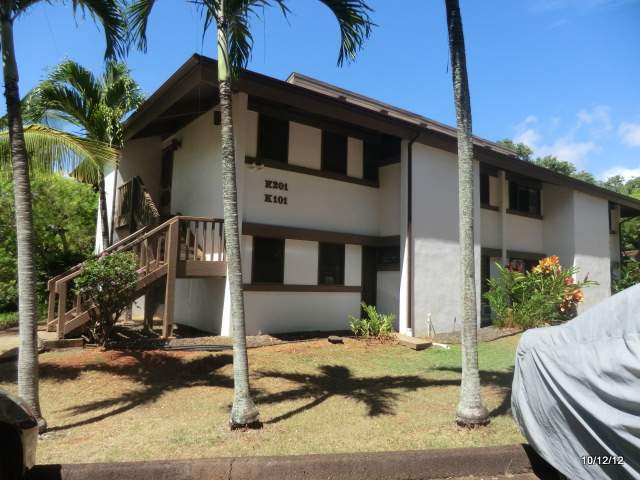 Living in a long term condo on Kauai is also a great option. There is no required yard work and depending on the project there could be a pool or tennis court. These condos normally allow pets. Right now there is a beautiful 2 bedroom 2 bath for $174,500. Maintenance fees are $530. Click here for more on this Kawaihau Sports Villa Condo.
This condo is only a 1 minute or less drive away from the beach and has a pool and tennis court. The picture on the left is not of the unit for sale.