We have a new loan product that I am very excited about, it is a Conventional Loan Product With Only 10% Down Payment And NO PMI.  Yes you heard that correctly only 10% down and NO Private Mortgage Insurance (PMI).
Now before anyone says the other 10% is built into the interest rate, it is not.  In addition to only requiring a 10% Down Payment, and not having ANY PMI, this loan product also has a below market interest rate which has been running about .25% less than the Conventional Loan Products.
This means a Borrower's purchasing power is higher since the monthly payment will be substantially less without PMI.  Also Conventional Guidelines apply in regards to Gift Funds, so this really means the Borrower only really needs 5% of their own funds, and the remaining 5% can be gifted.
This loan product however, is not for everyone.  This loan product is meant for Borrowers with a minimum Credit Score of 720.  The Basic Program Guidelines are:
Max Loan Size $750,000

Purchase Only Properties

Only Owner Occupied Properties:

Single Family

Detached PUD's

Approved Condo's

Must receive DU Approved Eligible

Eligible Borrowers:

US Citizens

Permanent Resident Aliens with Green Cards only.

43% Max Loan-To-Debt (DTI) Ratios

6% Max Seller Contributions

Minimum 720 FICO

1.5 Points

No Loan Level Price Adjustments
Below is a comparison between this loan product and a regular Conventional Mortgage on a house $350,000 with a 30 Year Fixed Rate Mortgage, and 10% Down Payment: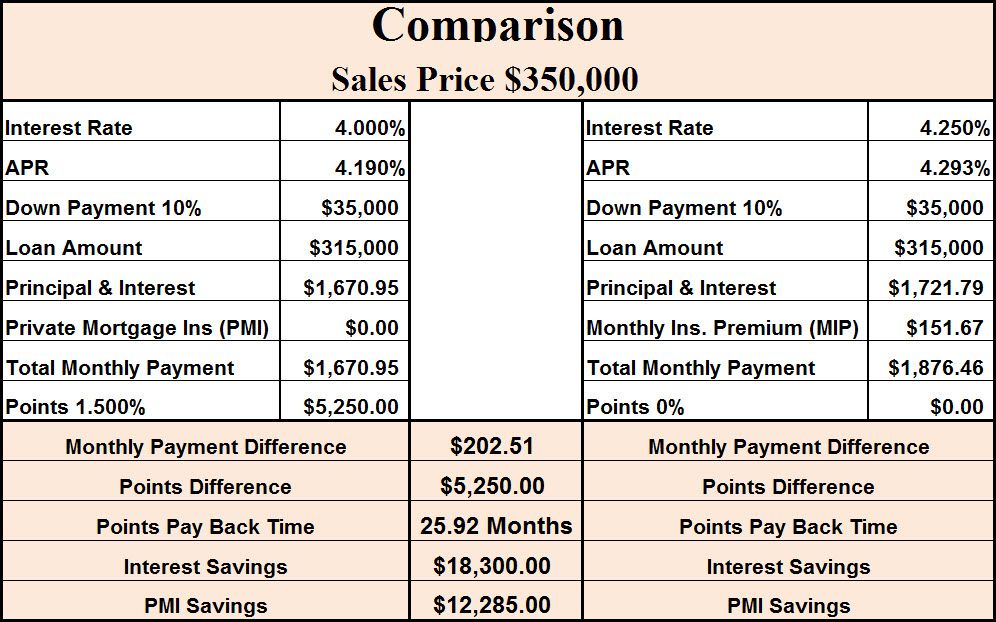 From the example above the monthly mortgage payment savings is $202.51 per month, the Borrower saves $18,300 over the 30 year life of the loan, and saves an additional $12,285 by not having any PMI.  Even though with this product the Borrower would initially pay 1.5 Points, compared to no Points for the regular Conventional Loan Product, they would recoup that money in just 25.92 months.
This Conventional Loan Product With Only 10% Down Payment And NO PMI is a fantastic opportunity for those who qualify, and one I will be making all of my Borrowers who meet the above guidelines aware of. 

**********************************************************************************************
 Info about the author:
George Souto NMLS# 65149 is a Loan Originator who can assist you with all your #FHA, #CHFA, and #Conventional #mortgage needs in Connecticut. George resides in Middlesex County which includes #Middletown, #Middlefield, #Durham, #Cromwell, #Portland, #Higganum, #Haddam, #East Haddam, #Moodus, #Chester, #Deep River, and #Essex. George can be contacted at (860) 573-1308 or gsouto@mccuemortgage.com