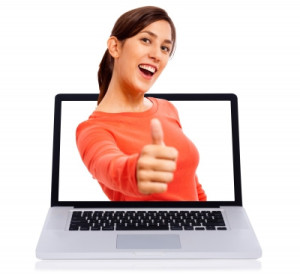 This article was originally posted on the Home Value Leads blog. It is being reposted here for your education and feedback.  
The Internet has revolutionized the way that professionals in several fields do business, especially real estate. Real estate agents who want to maximize their income must have a website so that potential home buyer or home seller leads can find them more easily. There are some important elements of successful REALTOR websites that you cannot ignore if you want to create a quality site that contributes to the success of your real estate business.
What Successful REALTOR Websites Have In Common
Responsive Design
Many signs show that the use of mobile devices to access the Internet is on the rise. According to a study conducted by Super Monitoring, half of the world's mobile web users rely on mobile browsing as their primary method of accessing the Internet. Can your website be loaded on popular mobile phones and tablets? If not, you run the risk of losing out on business from potential clients that want to use these devices to find out more information about how you can meet their real estate needs. Even search engines will penalize you if your site is not mobile friendly. Successful REALTOR websites have to be responsive and mobile friendly.
Search Engine Optimization
Commonly known as SEO, search engine optimization is one of the important elements of successful REALTOR websites because of the frequency with which search engines are used. Ranking highly in a search conducted by people in your area looking to buy or sell real estate could be a key factor that determines the number of leads you receive. Over 90% of searchers click on the first five results, so your goal should be to get there. You can research SEO tactics and attempt to implement them yourself, but if you are serious about optimizing your REALTOR website for search rankings you should hire a professional marketing business to handle this task for you.
A Smooth Interface
It is very important that your REALTOR website is easy to navigate. Try to avoid elaborate design schemes or an excessive number of pictures, as these elements might confuse your visitors and make them navigate away from your page. Your website should make it easy for your visitors to access all of the information that they need to know about your real estate business and how you can help them achieve their goals. A simple menu, clear choices, and effective calls to action are extremely important to successful REALTOR websites.
Strong Content
Content marketing is very popular right now for all kinds of businesses, and search engines like good, quality content that is updated regularly. The Content Marketing Institute reported that 60% of marketers plan on expanding their budget for content marketing in the next 12 months. Good content is one of the most important elements of successful REALTOR websites. To determine how good your site's content is, put yourself in the shoes of your website's visitors. Think about how valuable the information on your site would be and how you might be able to offer even more value to potential clients that browse onto your website. You could always ask your friends and past clients to test out your website and make suggestions.
These are some of the most important elements of successful REALTOR websites. Above all, it is important that you constantly update your site and make it better so that you can enjoy all of the benefits that come with having a great REALTOR website.
Photo Credit: SEOPlanter