Find similar Homes for sale to the homes  in Sterling in Colorado.  Is it time to sell your home in Sterling in Colorado? 
Known as the Queen City of the Plains! Having the largest population, estimated at approximately 13,900, of those communities in Colorado east of Pueblo, Sterling is the regional shopping hub for Northeast Colorado and Southwest Nebraska. The Logan County Chamber of Commerce has links to the local businesses in Sterling.
According to the United States Census Bureau, the city has a total area of 6.9 square miles (18 km2), all of it land.
Homes for Sale in Sterling
The 2 to 6 bedroom homes you would expect to find in Sterling in Colorado are generally going to range between 7,800 and 12500 square feet.  Floorplans feature spacious living rooms with vaulted ceilings and fireplaces, family rooms, and spacious master bathrooms with private bathrooms and walk in closets.  
Home prices in the Sterling  community vary depending upon size, condition, view, location, and amenities.  Homes feature spacious kitchens, family rooms, fireplaces, and big yards.
Prices vary depending upon floor plan, size, view, age, condition, updating and remodeling.  Home prices range between $154,900 to $3,950,000.  The average home sells for about $300,000.   
Location and Amenities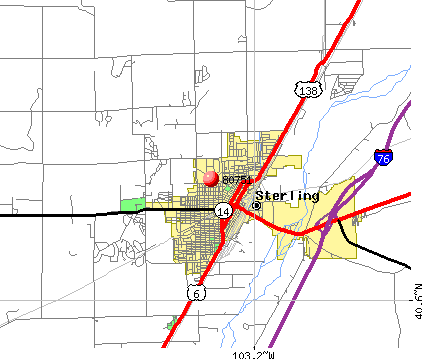 Sterling is located in Logan County in the Northeastern corner of Colorado on Interstate 76.  It is 128 miles (206 km) northeast of Denver, and is located on Interstate 76, on the 'eastern plains' of northeastern Colorado.
The City of Sterling is a Home Rule Municipality that is the county seat and the most populous city of Logan County, Colorado, United States. The city population was 18,211 at the 2013 census.
Just a few miles northeast of Sterling is located the North Sterling State Park, situated on the North Sterling Reservoir, a man-made lake fed by waters from the South Platte River. This new state park has three state of the art boat ramps, and three modern camping areas with over 150 camping sites, as well as multiple picnicking sites. The park is famous for its superb swimming, boating, waterskiing, camping, and fishing.
Pheasant, duck, and deer hunting are excellent in the high plains and South Platte River Valley surrounding Sterling.  Golf courses in the area are  Riverview Golf Course and Northeastern Eighteen (the former Sterling Country Club - now owned by Northeastern Junior College), each offering excellent 18-hole courses.Nearby museum and trail is  Overland Trail Museum and  Overland Trail Recreation Area.
Nearby shopping and recreations are Sun Mart, Eagle travel Stop, Walmart Supercenter,JC Penney, Macdonalds, KFC, Riverview Golf Club, NorthEastern 18, Sterling City Recreation, Pioneer Park, Overland Trail, North Sterling State Park and Picture Perfect Frame Gallery.
Find out about everything that is nearby to Sterling in Colorado  including places of worship, banking, shopping, attractions and recreation and much more on my website.
Sterling   is a great place to call home. You will not be disappointed if you end up living here. You can ? Homes for sale in Sterling Colorado (if there are any available today) as well as all available Colorado Homes for sale on my website.
Free Community Reports and School Information 
Gain valuable insight into the Sterling in Colorado community by looking at household incomes, crime risk, education levels attained, and potential for extreme weather. Use the map to locate points of interest like shopping, restaurants, and healthcare services.   
The quality of a school can greatly influence home values in an area. School serving the area are Sterling Middle School, Sterling High School,St Anthony, Campbell Elementary School, Hagen Early Education Center and Ayres Elementary.
Access Sterling in Colorado  District school reports which include school ratings and student teacher ratios on my website.
Thank you for reading about Homes in Sterling in Colorado.