For this update, I am going to be concentrating on the Boston real estate market for 2Q 2014.  All information was obtained from the Multiple Listing Service Property Information Network (MLSPIN)
The Boston real estate market is broken down into many different neighborhoods and it is impossible to give one "average" price for a Boston home.  Some areas (i.e.: Back Bay, Beacon Hill, South End) have some of the most expensive real estate in the United States.  Because Boston has a very expansive footprint coupled with very diverse housing stock there is usually "something for everyone" when it comes to finding a new home.  Key drivers for prices and appreciation tend to be location to Downtown; access to public transportation, amenities (in condo buildings) and lot size.
This update will focus on some of the areas that my clients have been focusing on in 2Q 2014.   A few overall observations are that Boston has a very limited supply of housing and new properties that hit the market tend to go very quickly, with multiple offers and, in many cases, significantly over asking prices.  In a nutshell - overall market conditions favor sellers rather than buyers and will continue into the foreseeable future.  The housing stock in Boston tends to be older – with many properties in the downtown area being built in the late 1800's to 1930's – and most buyers plan on some sort of updating and renovation.  Short-sales and foreclosures are rare because of a robust and diversified economy, limited housing supply and high demand.
Back Bay
Back Bay has some of the most expensive property in the United States.  In the 2nd quarter the average condominium in the Back Bay went for $1,457,000 and the average asking price was $1,483,000.  An average 2 bedroom condo went for $1,395,375.  Single-family properties in the Back Bay are rare and very expensive – only 4 have sold in the first two quarters of 2014 and the average price was $ 7,659,000.00.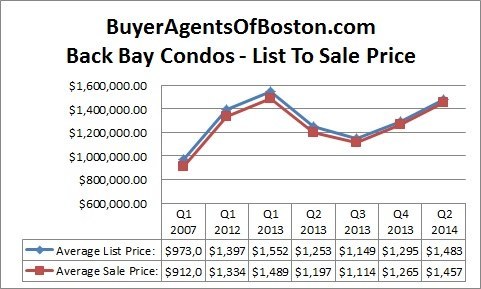 South End
The "hip and happening" South End is very desirable and the prices show it – the average condo in the South End in 2Q 2014 went for $820,216 with the average asking price of $809,416 – indicating that the average property was sold for above asking price.  The average 2 bedroom condo in the South End goes for $861,599.
South Boston
South Boston continues to be "red-hot" with the average condo selling at $515,137.  Multiple offers and bidding wars are common place as the gentrification of the Seaport area is in full swing.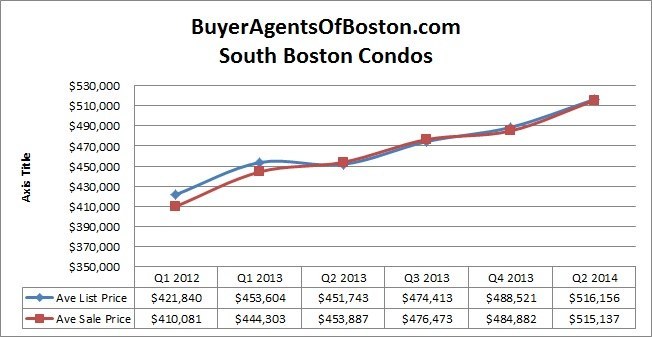 Jamaica Plain
The Jamaica Plain condo market remains very strong because of its proximity to Downtown as well as good public transportation links.  In 2Q 2014 the average condo sold for $491,212 with an asking price of $475,937.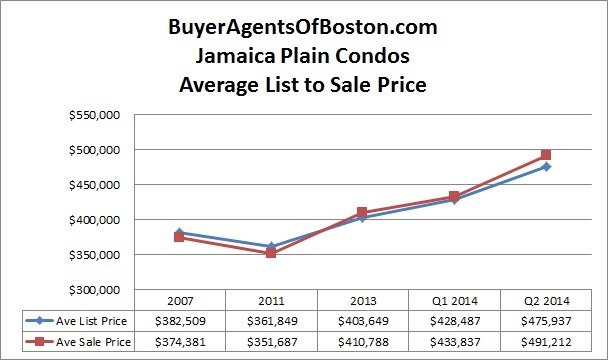 Brighton
Brighton has always been a haven for first-time buyers looking to get into the real estate market as well as parents looking to buy "kiddie-condos" in lieu of paying room and board at local colleges like Boston College and Boston University.  Once considered cheap, Brighton has been appreciating very swiftly with the average condo going for $363,780, slightly above an asking price of $355,521.  Brighton is also attractive to real estate investors looking to buy individual condos to diversify their portfolio or multi-family properties.
Multiple Family Properties
Investors can have a difficult time purchasing multi-family properties.  Demand is very strong; many properties (particularly at the lower price points) need extensive upgrades / renovations; many developers are buying with cash which makes an offer with a financing contingency not as attractive.  Although the rents are high, the cost to purchase makes obtaining a good ROI somewhat difficult the first few years.  With that said, the average 2-3 unit building in Boston went for $539,667with an asking price of $537,407in 2Q 2014 and 4 or more unit buildings averaged $2,521,620.  Remember these are averages and actual prices swing greatly from one neighborhood to another.
Buyer Beware    
In such a dynamic market, it is easy for a home buyer to get swept away in the pursuit of their new home and make decisions that they otherwise wouldn't.  Many listing agents are trying to get a multiple-offer bidding war going on every property, even if the property is overpriced given it's condition, location and appeal.  Home buyers are being lead to believe that the only way they will be able to have their offer considered is by waiving contingencies such as home inspections, radon tests and mortgage financing contingencies.  The home buyers that I have been working with in this market have desired an independent viewpoint of the properties they have been interested in which is free of the biases and conflicts of the listing broker and those of whom may be part of their office or franchise to make sure that their interests are protected and that appropriate "circuit breakers" are part of any deal.
Outlook
I foresee the Boston real estate market (as well as the entire Greater Boston market) will continue to be strong through 2015 – with limited supply, historically low interest rates, improving economy, and above-average rents.  In a nutshell,  the demand for housing is outstripping the supply.  Prices are continuing to rise and will probably continue to do so at an above average rate through 2015.  Buyers in this market need to be well financed with strong mortgage pre-approval letters from recognized lenders.  Buyers must also be patient for new inventory to hit the market, be willing to go above asking price if the property is a new listing, and be willing to compromise on their list of "must-haves" and "nice-to-haves" and be willing to make an offer quickly.  Each property and each scenario is unique so a one-size-fits-all home search strategy in such a dynamic market is not advisable and buyers should be working with an experienced buyer agent schooled in competing in multiple offer scenarios.