The following post is a Guest Post by Anthony Gilbert, REALTOR® on the Home Value Leads blog. Anthony is a broker with Coldwell Banker Danforth in Seattle, specializing in the Issaquah real estate market, and surrounding areas. He has over 10 years of online marketing experience, and offers Google AdWords and SEO consulting services for real estate agents in other markets. Anthony can be contacted thru his primary website at RealFX.com.
Google AdWords is Easy - Anyone Can Do It!
Got your attention? Yes, it's definitely possible to manage your own PPC campaigns targeted to home seller leads. But, unless you don't mind blowing thru a lot of money, managing your own PPC campaigns isn't "easy" in the least. Cost-effective account management requires more attention than most people realize. But, with practice, you may be able to run a very profitable Home Value Leads PPC campaign on your own. Be forewarned though… there isn't a shortage of real estate agents battling for attention these days, especially on Google. So in this post, we'll discuss three of the most important things to watch out for when running your own AdWords campaigns targeted to your Home Value Leads website.
Home Values Campaign Structure
Firstly, before moving forward, there's one setting I want to quickly mention, and that is to AVOID the "Display Network." Most AdWords users should focus on the Search Network. There are some opportunities with display ads, but for most reading this, it's not worth the hassle and potential risk.  So stick to the standard Google Search Network only (no partner networks). Moving on... Organizing your Campaigns and Ad Groups in an efficient manner from the start will not only allow greater control over your advertising targets & budget, but will directly impact your success with AdWords - and ultimately, lower your cost per lead acquisition. Most AdWords "newbies" (myself included 10 years ago) make the same mistake with their account structure - they pile every possible real estate related keyword phrase & associated ads into the same campaign and Ad Group. While it may seem like all of your phrases are closely related, in Google's eyes, they most likely are not. Instead, focus on very specific keyword "themes" per Ad Group. Ideally, it's best to have no more than 10-20 keyword phrases (possibly multiplied to 40-60 phrases when counting multiple "Match Types") and 2-3 per ads group, all of which have a common theme.
For example, let's examine the text in following two ads:
What's Your Home Worth? Thinking of Selling? Learn What Your Home May Be Worth Now! IssaquahHomeReviews.com/HomeWorth
Issaquah Home Values What's the Value of Your Home? Find Out Now! Free Home Evaluation. IssaquahHomeReviews.com/HomeValues
In these two examples, the advertiser is obviously targeting the same user - a homeowner who wants to know about their home's value, and what it might sell for on today's real estate market. But the "theme" and content of the ad are different - one is targeting users searching for phrases related to "values" and the other "worth." When constructing your Ad Groups, be sure to segment your phrases into tightly themed groups, and compose ads which match specific keywords in each group. Doing so will allow your ads to more closely match the user's search terms and intent, which will increase the Click Thru Rate, which also raises raises Quality Scores - ultimately resulting in a higher Ad Rank and a lower Cost Per Click.
Keyword Match Types
There are four Match Types in Google AdWords - Exact, Phrase, Broad and Modified Broad. Most advertisers with budget considerations should target a combination of Exact & Phrase match terms. But, Modified Broad, and basic Broad Matches may be worthy as well.
For example, revisiting the above "Home Worth" PPC ad, one could use the following keyword phrases:
[what is my house worth]  (Exact Match)
"what is my house worth"  (Phrase Match)
what is my +house +worth  (Modified Broad Match)
what is my house worth  (Broad Match)
Exact Match will match a user's search exactly, and Phrase Match will match terms which include other words before and/or after the specific phrase. Broad Match opens things up tremendously, but will very likely pull in other unrelated real estate search phrases, while Modified Broad Match must separately include the words "house" and "worth" when combined with any words, no matter the order.
Examples of phrases which would match these searches are:
what my house worth today   (Phrase Match, with "today" on the end)
what is my Issaquah house worth now   (Modified Broad Match, requiring "house" and "worth")
what were homes in Issaquah worth in 2006   (Broad Match - and notice the word "homes" vs. "house")
Creating list of keyword phrases in AdWords requires research. When considering the different match types, the list can grow exponentially (which is why Keyword Phrase managers are paid very well). In the beginning I suggest working primarily with Exact & Phrase match. However, running broad and/or modified broad terms will likely lead to the discovery of other home valuation phrase variations in your specific market. Using one of the above examples though, it's unlikely someone searching "What were homes in Issaquah worth in 2006" would be a good target in this case. So how can you keep your ads from appearing for searches that include irrelevant words? The answer is Negative Keywords.
Keyword Details Report & Negative Keywords
Negative keywords are among the most overlooked tools within AdWords. In my consulting, I regularly see accounts setup with nary a single Negative Keyword - and I've even seen "professionally managed" campaigns which have largely ignored this feature. (That's not always an oversight, but more likely because the manager isn't familiar enough with a specific market to know which negative words to filter out.) In short, Negative Keywords allow the advertiser to prevent their ads from displaying. It's all those potential words we don't know about which can lower Click Thru Rates, reduce Quality Scores, and cause unwanted clicks - all of which ultimately increase costs and siphon the budget away from profitable keyword matches. By reviewing your Keyword Details report regularly, you can not only find negative keywords to add to the Ad Group, entire Campaign, or your Shared Negative Keyword folder, but this is where you will also find potential phrases to ADD to your Exact and Phrase Match lists too. The Keyword Details report is accessible when viewing your list of keywords - most effciently at the AdGroup level - as shown in the image below. Let's take a look at this report in one of my older "Bellevue Real Estate" campaigns. [caption id="attachment_431" align="aligncenter" width="452"]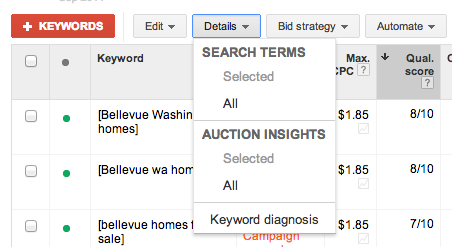 Keywords Details Report[/caption]   [caption id="attachment_432" align="aligncenter" width="473"]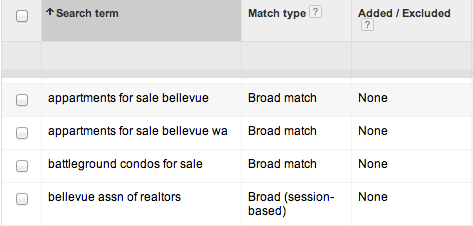 Finding Negative Keywords[/caption] In the image above we see a few phrases which triggered an ad to appear - two which contain the mis-spelled word "appartments" (instead of "apartment", which is already on the list), another for a city outside of my area (and with condos), and another for an association of REALTORS®. Since "apartments" are typically rented in my market, I would need to address this (mis-spellings are common) - and the other two do not match my intended targets. In these examples, I need to add the words appartment, appartments, battleground, and assn to my negative keywords list. Negative keywords may be added at the Campaign, AdGroup, or Account level, via a shared list. I mostly use a shared list for global negative matches to prevent duplicate entry.
AdWords Management For Real Estate - It Never Ends
I strongly encourage all AdWords DIY'ers to perform copious amounts of research when running their own campaigns. The above tips are just the "tip" of the iceberg, and the learning never ends. Rest assured that running real estate Pay-Per-Click campaigns presents numerous unique challenges, which even the most experienced PPC managers often find difficult. Depending on the market and competition, an account can quickly get out of control. So, always play it safe. When setting up your first PPC campaign for Home Value Leads, be conservative with the daily budget and monitor your account closely. Learning AdWords can be tedious, but depending on your market, the potential rewards may be well worth the effort.