The Phoenix Real Estate Market is inching towards a more balanced market because active listings in the Phoenix MLS are dropping.
Active Listings in the Phoenix MLS
August 2014 began with 22,081 active Phoenix MLS listings. Active listings in the Phoenix Real Estate Market have dropped for 5 consecutive months with a net loss of 4,500 homes for sale. 25,000 listings are normal for the Greater Phoenix MLS. New listings are at their lowest levels in 14 years and sellers who are not getting attractive offers are taking their homes off the Phoenix Real Estate Market.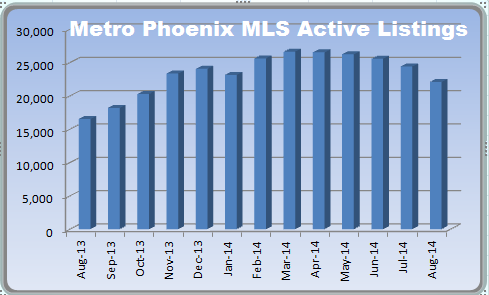 Sales in the Phoenix Real Estate Market
6,858 residential home sales were recorded in July 2014. The chart indicates homes sales peaked early in April 2014 and have continued to decline.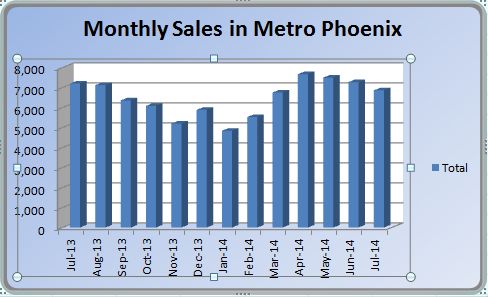 Sales recorded in the Phoenix MLS during 2014 continue to be the lowest in 6 years, and July was no exception.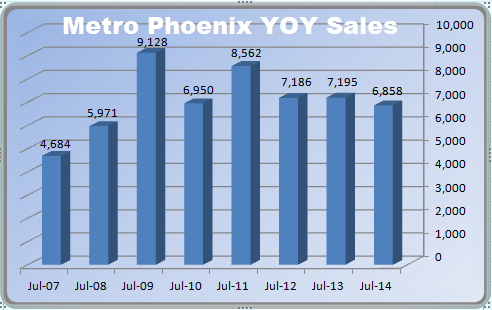 Phoenix Foreclosures
Phoenix Foreclosures continue at normal levels. The chart indicates that Phoenix foreclosures represented about 7% of all listings in the Phoenix MLS over the last year. 12 months ago Phoenix foreclosures represented 20% of total sales but .... (see rest of post at Phoenix Housing Market)