This Interactive Map is like the Google Maps of Kauai real estate.
By using a smart phone and going to www.kauaidreams.com and clicking on "MENU" -> "INTERACTIVE MAP". It will pin point your current location and will show properties nearby for sale.
purple= residential listings
 yellow= condo listings
gray= commercial listings 
- This map is perfect when driving by a home but maybe its not the right time to call the listing agent. Simply go on a smart        phone and the listing price and more information will be in front of you.
Click on the price and more information on the property will appear!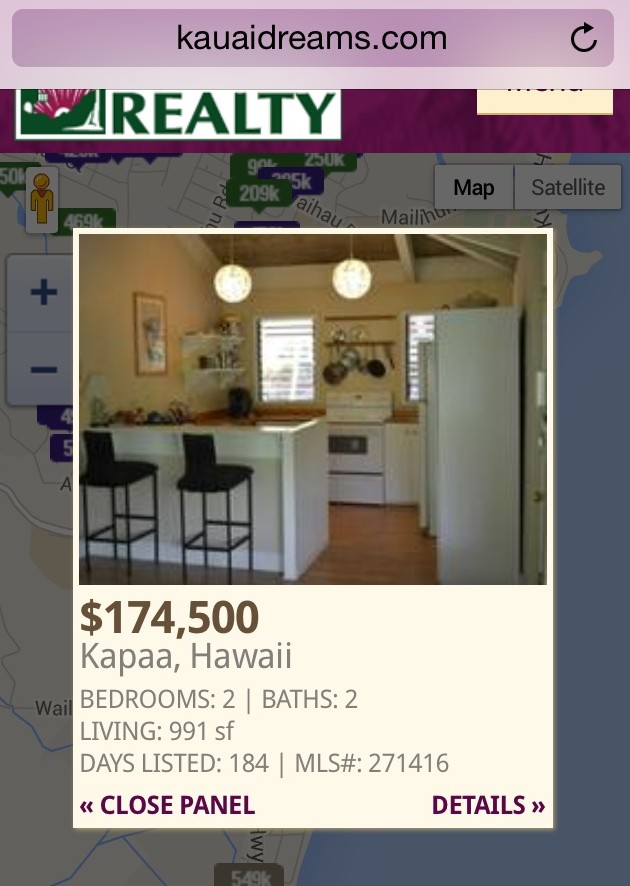 By clicking on "DETAILS" more information on the property will show up. One of the most important information that shows is on the top right. Where it will say if the property is Active orContingent. Active means there are no offers that have currently been accepted by the sellers. Contingent means there is an accepted offer in but the sale is contingent upon maybe financing, getting title cleared, tenants moving out, just for example.
Please feel free to use our interactive map! Simply by going towww.kauaidreams.com from a mobile device. This is a great tool for exploring Kauai real estate hands on.