Homes in West Plano near Dallas Texas

In 2005, 2006, and 2011, Plano was designated the best place to live in the Western United States by CNN Money magazine. In 2006, Plano was selected as the 11th best place to live in the United States by CNN Money magazine.It was also selected as the safest city in America in 2010 and 2011 by Forbes.Plano schools consistently score among the highest in the nation.[8] It has been rated as the wealthiest city in the United States by CNN Money, and the United States Census Bureau declared Plano the wealthiest city of 2008.
Find out School Report for West Plano in Dallas Texas  and detailed information on school districts, school ratings, test scores by grade, student-teacher ratio, and much more.

Gain valuable insight into the West Plano community by looking at household incomes, crime risk, education levels attained, and potential for extreme weather. Use the map to locate points of interest like shopping, restaurants, and health care services.


Real Estate Overview
The homes in West Plano can be a great deal more expensive than typical Plano real estate. The neighborhoods are newer, but many are also built to be highly exclusive and very upscale. One plus side of living in West Plano is easy access to the Dallas North Tollway for commuters.Homes currently on the market range from $17,600 to $1,150,000. Square feet ranging from 452 to as much as 5907 with bedroom from 1 to 6.

Access West Plano in Dallas Texas community Market Report  and includes current listings, recent sales, Market inventory trends, property ownersip and addtional statictics for single family homes in West Plano ,Texas. Whether you're a buyer or seller, the knowledge you gain will help put you in control of your real estate transactions.

Location and Amenities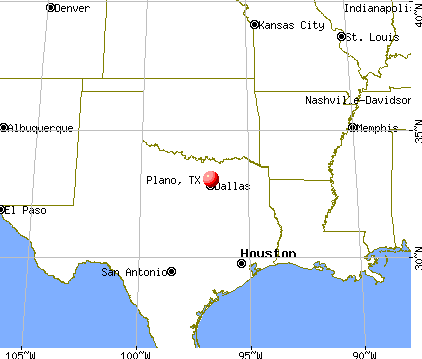 Approximately 22 miles and 31 minutes drive time from central west Plano to DFW Airport... 22 miles and 29 minutes to downtown Dallas.
The city is home to many corporate headquarters: Alliance Data, Cinemark Theatres, Dell Services, Dr Pepper Snapple Group, Ericsson, Frito-Lay, HP Enterprise Services, Huawei, J. C. Penney, Pizza Hut, Rent-A-Center, Traxxas, Siemens PLM Software, and Toyota Motors USA.
Although Plano is named for the flat plains of the area, large trees abound in the city's many parks.One such tree, estimated to be over 500 years old, resides in Bob Woodruff park near Rowlett Creek on the city's east side.

The two main Open Space Preserves, Bob Woodruff Park (321 acres) and Oak Point Park and Nature Preserve (801 acres), are connected by biking trails making the green space one large uninterrupted park space that is larger than Central Park in New York City (840 acres). Total acreage of all spaces managed by the Parks department currently totals 3,830.81. The Plano Master Plan has the acreage growing to 4,092.63 when complete.
Your lender decides what you can borrow but you decide what you can afford.
Homes in the West Plano in Dallas Texas Community are approved for several low down payment financing options including;FHA loans with as little as 3.5% down,Conventional loans with as little as 5% down and VA loans with as little as zero down.
Be informed in your homebuying and financing decisions whether you're a first home buyer or property owner. Get the loan information you need and check on how to qualify to loan programs today!

Find Homes for Sale in West Plano in Dallas Texas .Visit my website to search for homes in West Plano in Dallas Texas or to be notified with updated listings for homes for sale in West Plano as it hit the market.

Find out what your West Plano in Dallas Texas is worth and receive a custom evaluation for your home in Lakewood in Dallas Texas.






Thank you for reading about Homes in West Plano in Dallas Texas