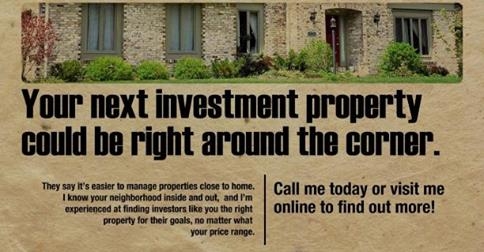 Profit Killer Mistake # 1 - You don't evaluate enough properties to get a knockout deal!!!
You look at 5 or 10 properties and fall in love with one or you write offers on everything you see trying to get "low-ball deals" which turn out to be a waste of your time.  The key to success in foreclosure investing is making good use of your time.  Every week, use the 50-5-2 approach.  Evaluate 50 properties and 5 and make an offer on two.  Look out for properties that are way "too big" or "too small."
Profit Killer Mistake #2 - The deal looks too good to be rue and you buy a property without "due diligence."
More than one investor experiences this problem.  Failing to get an inspection, not doing a CMA.  Discovering that the property has a zoning violation such as a garage built too close to the property or an an added room has had no construction permit.  (I had one listing like that this year.)
Watch out for LIENS.  There are certain leins that stay attached to the property.  These are IRS leings, mechanic's leins, contractor leins and property tax liens.  The money is going to come out of someone's pocket and it could be yours.
Profit Killer # 3  What is "history.?  Properties that have been contaminated with mold, etc. which require more than just average cosmetic rehab efforts.  In face, these properties require goverment inspection prior to being sold.
Profit Killer #4 - The loan you set up with your lender is not structured correctly.  Just watch out to see what the penalties are and what could affect your bottom line profit.
Profit Killer Mistake #5 - You buy properties an an area where property investories are overloaded.
Profit Killer Mistake #6  You fail to rehab properly and either underspend or overspend.
Profit Killer Mistake $7
Some rehabbers don't want to spoil it for a homebuyer by showing the property until it is completely
finished but this is a mistake.  Tell each buyer you will sell the property with a Home Buyer's Warranty Plan and allow them to chose their own colors and appliances.
Profit Killer Mistake # 8  Don't rely on your gut but get an appraisal or a cma.
Profit Killer Mistake #9  Failing to get enough bids on the rehab work.
Profit Killer Mistake #10 - You fail to build your list of potential buyers - your buyer's list is the most vital part of your real estate investment business.
Profit Killer Mistake #11 - You don't understand the difference between "pre-qualified and Pre-approved.  When doing a cash deal, make sure you have proof of funds.
Profit Killer Mistake #12 - You fail to anticipate the possibility of the unexpected and have no reserve for it.
Profit Killer Mistake #13 - You try to do the contracts yourself but you don't know what you are doing
You may think you're going to save money without having a real estate agent for an attorney and you wind up making serious mistakes.
A well written offer to purchase with contain an "assignment clause."  This way if you decide that you don't want to do the property yourself, you can sell your purchase contract to another investor for a few throusand dollars.  Hanging around investor association meetings can introduce you to a few people struggling with the same problems you have.
.