We are starting a new weekly series of blog posts concentrating on high tech products that are currently trending in remodeling circles. This week we will start off in the most unlikely of places: the bathroom.
What is trending in the bathroom? A high tech toilet? Low-flow shower-heads? Not exactly! Check these out!
Chromatherapy Tub
Chromatherapy is a scientifically proven method of treating seasonal affective disorder and is all the rage in bathtubs now. Immerse yourself in a mood-lifting torrent of color. A popular model is Kohler's Purist Tub. Kohler's Purist tub allows you to bathe in eight colors, a full spectrum of light, for an experience that's both relaxing and invigorating.
ioDIGITAL Vertical Spa by Moen
Digital showers create a personalized shower or bath based on the bather's preference of temperature and water delivery. The ioDIGITAL Vertical Spa by Moen surrounds you in water from every angle and allows for complete customization. It can be programmed from the wall pad or via remote control.
Television Mirrors
What is more high-tech than having a tv appear in your mirror! Séura provides several models to choose from. Their exclusive mirror technology is surprisingly magical. When on, Enhanced TV mirrors provide immediate access to news and media. When off, the television completely disappears without a hint of its technical applications for a truly vanishing effect. You decide when a television is in the room with the simple push of a remote control button.
Add-On Stereos
Merging the popularity of integrated audio with the trend of home remodels, Kohler Co. launched StereoStik, an audio add-on system for bathroom mirrored cabinets, at the 2012 International Builders' Show. The small unit is designed to snap onto the side of the mirror in little to no time. It's equipped with AM/FM radio and auxiliary input to connect your mp3 player, plus a digital clock and speakers–all wrapped up in a sleek, rust-free aluminum package.
Flush-mount Power Outlets
Flush-mount power outlets? High-tech? Really? After a fashion. Nothing breaks up your nice, sleek surface like an ugly power outlet. It really ruins the feel of the room! This Trufig outlet cover does its job with quiet elegance, letting your design be the star, not the outlet attached to it.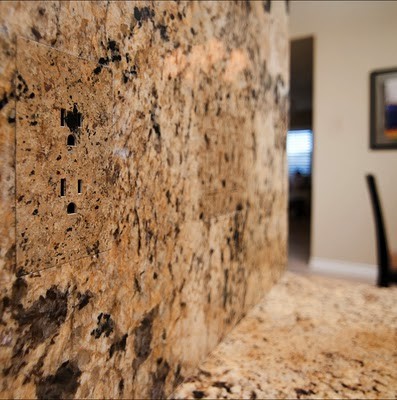 I hope you enjoyed these design trends and if you do implement them on your next remodel shoot us a picture and we'll post it!
If you enjoyed this blog please like and share it on facebook! You can also follow us on facebook and twitter!
Facebook: http://www.facebook.com/lascrucesrealestate
Twitter: http://www.twitter.com/evelynbruder

When you are ready to take it to the next level, contact us and we'll be happy to help. Visit our comprehensive one-stop website for all the Las Cruces Real Estate Information you are looking for. For information about The Evelyn Bruder Dream Team, what we do and how we can provide all of your real estate needs, visit our real estate services page.