Richwoods Country by Landon Homes of Texas
---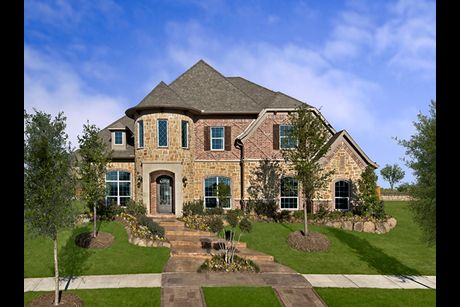 Listings for Sale Near Richwoods Country in Frisco, TX
Request a FREE Evaluation of your home in Frisco or surounding areas
Richwoods Country offers the best in gated master planned living. Located just north of Hwy 121 between Coit Road and Independence Parkway, Richwoods is literally minutes from the Dallas North Tollway and all the shopping, sports and entertainment that Frisco and North Texas have to offer. Richwoods Country is offering homes of varying sizes on 84' x 130' homesites.  
Landon Homes have been around for more than 20 years, the Landon name has been synonymous with uncompromising quality, commitment to customer satisfaction, and exemplary value. John Landon, president of Landon Homes, has been a leading force in homebuilding and development since the 1980s. In 1987, Landon created Legacy Homes, which grew from a single community in Dallas to become the 12th largest builder in the nation. Landon's leadership led to the receipt of some of the industry's most prestigious awards, including being named Texas Builder of the Year five out of seven years, and a myriad of honors for outstanding architecture, product designs, and premier customer service.  Please call for a tour @ 469-316-3989!!!
Frisco Independent School District:  The District covers portions of the cities of Frisco, Little Elm, McKinney, and Plano, as well as unincorporated land in Denton and Collin counties.Approximately 90 percent of the graduating seniors plan to continue their education in some way after high school.
In 2014, the school district was rated to have "met standard" by the Texas Education Agency.[1]
In September 2014, enrollment in Frisco ISD schools surpassed 49,000 students and is expected to climb by about 3,000 students each year. Demographers project enrollment in Frisco ISD schools will climb to 55,807 students by 2016 and 65,848 students by 2020. To meet the demands of increasing student enrollment, the District plans to open Reedy High School, Trent and Pearson middle schools and Norris Elementary in fall 2015.
Median household income in 75035 is $99,043 with 445 households earning between $35,000 to $40,000 annually.
Income levels are listed along the left side of the chart, and the number of households are displayed along the bottom.
Price Trends - Sold vs. Listed:
Understand the difference between "listing prices" (what sellers are asking for) and "sold prices" (what buyers are willing to pay).
By comparing these price trends, you'll have a good idea of where the market is heading. The median listing and sold property prices are calculated based on the market activity each month.
Some sales are not immediately available from public records. As they become available, the data are updated
COMMUNITY INFORMATION
 THANK YOU FOR VISITING!!!
Thank you for visiting my BLOG!  I provide professional real estate services to Buyers and Sellers in Frisco, TX and surrounding areas.
I can help you to achieve YOUR Real Estate goals.
My goal is to be a resource for you for all things real estate. If you just have a question or comment - please feel free to call, email or even text.
I take my customer service seriously and respond to all inquires as quickly as I can.
The Frisco area is an amazing place to live and work.  I invite you to search till your hearts content on this site or just email me and we will do all the hard work for you and you will just get houses that match your criteria - automatically! 
Information provided courtesy of Holli Washington-Keller Williams Realty
Hire the professionals to help you find your next home!
Call  469-316-3989  for more information on Buyer's Services (AT NO COST TO BUYERS)
Search DFW homes in  MLS for FREE at www.buyandsellrichardsonhomes.com
Get a FREE HOME VALUE REPORT  at www.buyandwellrichardsonhomes.com/sell
 Can you see yourself living in Richwoods Country of Frisco, TX ???